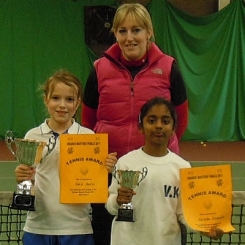 With thanks to
Dave Macdermid. 
The finals of the NESLTA ROGY Under 8 and Under 9 events at Westburn saw Westhill's Cameron Jappy lift the boys under 8 event with a 10-7, 5-10, 10-3 final victory over Harrshra Pradeep Kumar (DL Aberdeen) in the final.
Alford youngster Ewan Smith was third, with Ross Grant (Westhill) fourth.
The under 8 girls title went to Abigail Doran (Stonehaven) with Varada Kamate (Cults) the runner-up.
Jamie Connel (Rubislaw) won the Boys 9's with a 10-6 win over Harrshra Pradeep Kumar, with the girls title going to Jodie Harris (Stonehaven), with Varada Kamate again the runner-up.