Following their successful test match against Sri Lanka in May 2011, the Scottish Thistles are returning to Aberdeen for a full three match test series against Wales.  With thanks to Dave Macdermid and The Big Partnership.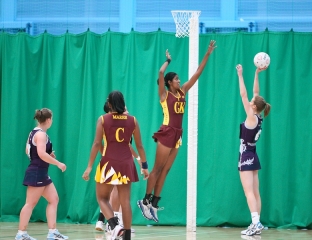 The Scottish Thistles' victorious series against Sri Lanka saw their world ranking rise up to 14th, so now the Thistles are looking to 'slay some Welsh dragons' in what promises to be some tense, gripping, closely fought matches, as the Welsh are currently 12th in the world.
The series will be a crucial part of their preparation for the Commonwealth Games in Glasgow in 2014.
The Scottish U21s, including squad members Emily Gray and Fiona Farquharson – both from Aberdeen, are also taking on their Welsh counterparts before each Test match.
National Coach, Denise Holland said:
"The Scottish Thistles are ready to meet Wales in this back to back competition; 3 matches in 3 days which emulates the type of schedule at the Glasgow CWG's 2014. Both sides are out to win all three test matches in Aberdeen; we have always competed hard against each other, with very little but sheer determination between the squads. 
"It will be extremely exciting, as the winner will not only gain much valued World Ranking points but will also gain confidence going into Netball Europe in May 2012, when the squads will meet again. The Thistles are ready now to 'sting' with some vital wins!"
David Beattie, Chief Executive of Aberdeen Sports Village said
"I am delighted to welcome the Scottish Thistles back to Aberdeen for the second time this year. We are all excited about seeing top class netball once again in the city and look forward to cheering on the Thistles as they take on the Welsh in what is sure to be three gripping matches. I am confident that Aberdeen will provide some excellent support for the Thistles and thoroughly enjoy being a part of their preparation for the Commonwealth Games in 2014."
All 3 matches will be at the Aberdeen Sports Village from 9th – 11th December 2011. It costs just £5 per adult and £3 per child or there is a weekend pass for £12 for adults and £7 for children.
Tickets are available now from the Aberdeen Sports Village on 01224 438900.