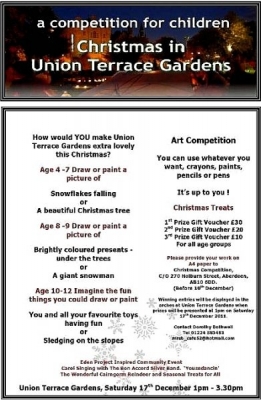 On 17 December Union Terrace Gardens will become a Winter Wonderland, and your artwork (if you're 12 years old or younger) could win you a prize. 
Suzanne Kelly gets the information from the organisers.
Everyone is invited – come along to the Gardens from 1 to 3.30pm, and enjoy seasonal treats for all ages, including the Cairngorm Reindeer, Christmas carol singers, a display of the winning artwork, and more.
This is an Eden Project inspired community event.
Children's' Artwork Categories are:
Age 4-7 – Draw or paint a picture of snowflakes falling or a beautiful Christmas tree
Age 8-9 – Draw or paint a picture of brightly coloured presents – under the trees or a giant snowman
Age 10-12 – Imagine all the different fun things you could draw or paint – perhaps you and all your favourite toys having fun, or sledging on the slopes
Gift vouchers for first, second or third prizes (£30, £20 and £10) will be awarded for all age groups.
Your artwork can be in crayon, paint, pencils, pens – anything!
Send your artwork before 10 December to:
Christmas Competition, c/0 270 Holburn Street, Aberdeen AB10 6DD
Further information – email mrsb_cafe52@hotmail.com,
Union Terrace Gardens
17 December
1 – 3.30pm.