By Gordon Maloney.
Talk of an anti-English "educational apartheid" in Scotland is as misguided and naive as it is deceitful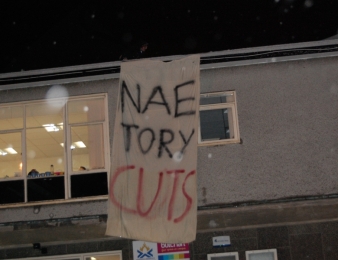 The Scottish National Party have repeatedly
ruled out tuition fees in Scotland
, for Scottish students at least. This commitment to free education is welcome, but the Liberal Democrats' widely reported U-turn on their pre-election pledge to vote against any increase in tuition fees has left the Scottish Government and, indeed, the entire HE sector in Scotland in a difficult position.
This is why students in Scotland have – and need to continue to – fight attacks on education in England and Wales as fervently as in Scotland.
One of the dangers, which was spelled out in the SNP's green paper on higher education funding, is that of fee refugees. If tuition fees go up to  £9000 in England and Wales and they remain at £1820 for the same students in Scotland, there is every possibility that an unsustainable number of "fee refugees" could cross the border into Scotland. Because of this, the Scottish Government has considered increasing fees for English and Welsh students to as high as £6500 a year.
This has prompted stereotypically hysterical cries from the right-wing, Unionist media. The Daily Mail has accused the SNP of "planning a new anti-English 'tax' to make it harder for students south of the border to escape soaring tuition fees." This is ironic for two reasons. Firstly because of the Daily Mail's objection to people coming to the UK to escape dictators, war and disease, and secondly because these papers largely backed the Conservatives – the ones who put the Scottish Government in this position in the first place – at the general election in May.
These arguments, however, distort the reality of the situation. In common with other devolved bodies and local authorities across the country, difficult decisions (and the blame for them) are being passed on from the Coalition Government to the Scottish Government. With very limited revenue raising powers, this essentially becomes a matter of letting others chose who and what to cut, while forcing them to make cuts at all. These bodies may be passionately opposed to the Government's austerity agenda, yet without the ability to increase taxes they have no choice but to follow the scorched-earth road to recovery (or ruin, as is seeming increasingly likely.)
Let's be clear about one thing. If the SNP do increase tuition fees for English and Welsh students, the blame for this will lie squarely with the Conservatives and the Liberal Democrats in Westminster. The only "educational apartheid" is one between rich and poor, something that New Labour didn't do enough to bridge and the Coalition seems intent on turning into an impassable abyss.