By Gordon Maloney.
It wasn't quite Paris 1968, but accusations of current-day student apathy seem to be wide of the mark as Aberdeen students occupied a local Conservative Party office to teach party staff basic macroeconomics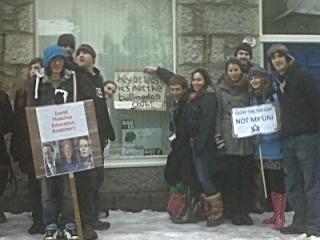 Students from Aberdeen's colleges and universities held a teach-in at the Conservative Party's Aberdeen South office on Tuesday morning to protest against the Coalition's deep cuts to public services and the increase in tuition fees for students in England and Wales.
The occupation began with a protester giving office staff a brief lecture on basic Keynesian economics.
He later told reporters, "Based on what Osborne is doing to the economy, the Tories must have missed some basic economics classes, so we're here to fill them in on some theory."
Demonstrators offered staff wine and mince pies and sang songs.
Before occupying the Tory HQ, a spokesperson rejected claims that their demands were selfish. "We're here to demand much more than merely giving Universities more money. We're here to challenge the idea that the entire public sector can be hung, drawn and quartered while it's business as usual for those at the top, whether it's vice chancellors' pay increases, MPs' expenses or bankers' bonuses. We see time and time again the argument that there's no money and there just has to be cuts. This simply doesn't hold up."
The action was called by the Aberdeen Defend Education Campaign and backed by both Aberdeen College Students' Association and Aberdeen University Students' Association, and comes just days after Aaron
Porter, the President of the National Union of Students gave his support to non-violent direct action. Porter told an assembly of students at the University College of London, "Wherever there is non-violent student action, NUS should and will support that. What we are facing is utterly disgraceful."