SPSC Aberdeen invite you to an evening with Zayneb Al-Shalafeh, who will be visiting us from Palestine to discuss water rights, the Israeli occupation, the role of women in Palestinian society and grassroots resistance movements. With thanks to Dave Black.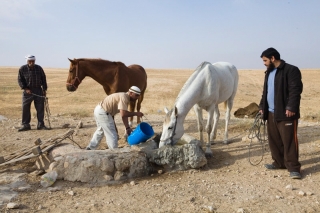 Israel's policies violate international law: settlement expansion escalates, the apartheid wall steals more Palestinian land, checkpoints & settler-only roads prevent free access.
Palestinian communities are denied the human right to water as they are prevented from maintaining & drilling wells.
Israel also continues to demolish water infrastructure as well as houses, clinics & schools. This leaves the community suffering a miserable life while illegal settlements & farms get thirteen times the amount of water per capita.
Many Palestinians rely on agriculture and raising animals to make their living & water is vital to enable people to exist on their land. Israel uses water as an ethnic-cleansing tool.
Zayneb Al-Shalalfeh works for LifeSource, the Palestinian water rights NGO. Zayneb is a committed activist from Hebron who has worked with many communities to educate and organise popular resistance. As a Palestinian woman she brings her experience of Israeli occupation & human rights violations & an analysis of the solutions to these issues & a focus on international solidarity actions.
The event takes place at 7.30 pm on Sunday May 13th, Room 251, MacRobert Building, University of Aberdeen (non-students welcome)