First passengers take off on bmi regional's inaugural Bristol-bound flight.  With thanks to Dave MacDermid.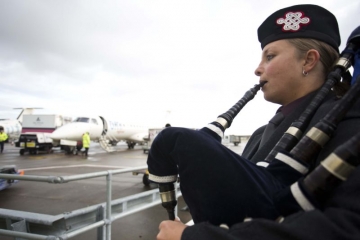 The first passengers have taken off on leading UK business airline
bmi
regional
's new service from Aberdeen to Bristol after the air operator launched its inaugural flight on Monday 29th October.
The airline's twice-daily, Bristol-bound flights offer the only direct air link between Aberdeen and Bristol.
To mark this week's official launch bmi regional presented all passengers boarding the maiden journey and the successive flight, with a certificate to commemorate their trip while musician Julie Brinklow was on hand to pipe the passengers on arrival and departure.
bmi regional chief operating officer Graeme Ross said:
"The number of passengers who have already booked the new Bristol service demonstrates our confidence in it being a popular route.  It also reinforces our commitment to building upon our vital air links between Scotland and England through delivering a value-for-money and excellent customer service.
"As the largest centre of culture, employment and education in the vibrant south-west England region, Bristol attracts a considerable number of visitors and business people from the north-east of Scotland.  We anticipate great demand for our new service which not only provides customers with a greater choice and flexibility for travelling directly to Bristol and offering speedy access to the South west of England."
One way fares for the new services will start at £52.99 and are on sale at www.bmiregional.com
Aberdeen Airport managing director Derek Provan said.
"Adding this service into our portfolio of flights demonstrates bmi regional's commitment to the Aberdeen market.  I have confidence that it will be a popular service amongst business and leisure passengers alike, and wish them every success."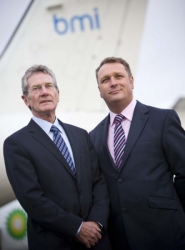 A second new route announced by
bmi regional
sees flights commence between Manchester and Antwerp also started on Monday.
bmi regional operates over 600 flights a week throughout the UK and Europe, and has received the accolade of being the UK's most punctual airline for the seventh year in a row.  The company also operates services from Aberdeen to Manchester, Norwich, Esbjerg and Groningen.
The company is committed to retaining the airline's iconic brand values and high levels of service which include check-in up to 30 minutes prior to departure, a free 20kg hold baggage allowance and complimentary catering on board.
From today, the BD code used on all of bmi regional's domestic and international flights will be replaced with BM although flight numbers will remain the same with, for example, BD 1366 becoming BM 1366.
TIMETABLE
Monday – Saturday           
Depart Bristol 07:00             Arrive Aberdeen 08:25
Depart Aberdeen 08:55      Arrive Bristol 10:20
Monday – Friday and Sunday
Depart Bristol 16:40             Arrive Aberdeen 18:05
Depart Aberdeen 18:35      Arrive Bristol 20:00