With thanks to Dave Watt.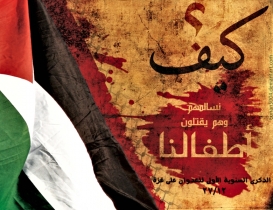 In 1975, as part of a programme to increase the Jewish population in the Galilee (the Judaization of the Gaililee), the Israeli government announced plans to expropriate 20,103 dunams (about 5000 acres) of Palestinian land to make way for twenty new Jewish settlements. In reaction to this, and years of such expropriations, the Palestinian community established a
Committee for the Defence of Arab Land
.
On March 30th 1976, they called a general strike and mass protest to demonstrate the government's plans. The excessive force used by Israeli forces against the protests saw 6 Palestinians shot dead and hundreds injured.
Land Day has since come to symbolise Palestinian resistance to Israel's racist policies and has been commemorated by Palestinians every year since, with thousands of activists taking part in actions around the world to show their solidarity (this year will see the Global March to Jerusalem take place on March 30th).
Aberdeen SPSC invite you to join us on Thursday, March 29th to find out more about Land Day and the land legislation and policies used by the Israeli government to force Palestinians within Israel from their land. A short presentation will be followed by a screening of the film Lemon Tree, which tells the story of a Palestinian woman whose livelihood (her lemon grove) is threatened when the Israeli Defence Minister moves into the house next door.
Lemon Tree Screening and Presentation – 
7.30-9.30pm,
March 29th,
Room 051 MacRobert Building,
Aberdeen University (all welcome)