Aberdeen City Council has been warned today that its staff could face criminal prosecution for its activities on Tullos Hill.  Animal Concern's John Robins issued a press release explaining all, and Aberdeen Voice brings you this latest development in the ongoing Tullos Hill saga.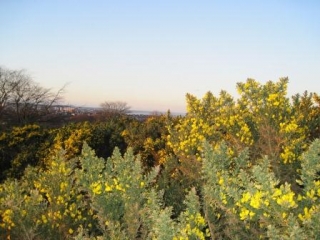 Aberdeen City Council (ACC) has been warned that staff and volunteers involved in the controversial Tree for Every Citizen project could face prosecution under wildlife crime laws.
It is believed workers have started clearing gorse and shrubs on Tullos Hill in preparation for the planting of saplings which is due to start next month.
Gorse is a favoured nesting habitat for a variety of birds including members of the finch family. It is a criminal offence to disturb or destroy active nests or to harm eggs or chicks.
John Robins of Animal Concern Advice Line (ACAL) has asked the Wildlife Crime Officer at Grampian Police to investigate the situation with a view to arresting anyone found to have broken wildlife protection laws. The SSPCA and RSPB have also been asked to intervene. ACAL have warned ACC that their staff and volunteers could be prosecuted for destroying birds' nests and they have asked the Council to suspend all work on Tullos Hill until September.
John Robins states:
"This tree planting scheme has gone from insane to criminally insane. Who in their right mind orders clearance of nest sites just at the time when song birds are nesting and then sends in an army of tree planters when ground nesting birds are trying to raise their young?
"This latest development suggests that the people behind this project really do not have a clue about what they are doing.  ACC claim their Tree for Every Citizen project will provide wildlife habitat. All I can see is habitat destruction and disruption at the very worst time of year for that to happen. Will it take a criminal prosecution before ACC see sense?"
Gavin Lindsay, Wildlife Crime Officer at Grampian Police, has agreed to speak to Aberdeen City Council about possible breaches in wildlife protection laws.  The SSPCA have asked their Aberdeen inspectorate to look into the matter. We await a response from RSPB Scotland.
The Council have put up temporary fencing around and on Tullos Hill. These have yellow hazard warning signs stating "Warning Forestry Operations. Please obey all signs and restrictions."
A copy of the warning sent to the ACC Chief Exec and the Councillor behind the tree planting project is as follows:-
Dear Ms Watts and Councillor Malone,
I note that Aberdeen City Council has announced its intention to commence ground preparation work and the planting of saplings on Tullos Hill. I understand that this work will involve the removal of bracken and gorse and that clearance of these plants may already have started.
Given the long period of unseasonably mild weather you've had in the Aberdeen area over the last few weeks it is highly likely that birds will be nesting early and there will be nests with eggs and chicks in the gorse and on the ground at Tullos Hill. Gorse, which provides prickly protection for nesting birds, is a favoured nesting habitat for finches such as Twite, Chaffinch, Linnet, Redpoll and others.  From photographs and descriptions of the terrain on Tullos Hill I expect there are also a fair number of native ground nesting birds such as Lapwing, Curlew, Skylark and perhaps Ring Ouzel nesting in the area.
Yesterday we had a report that someone has heard grouse calling on the hill so it is likely that grouse will be nesting there too. There will no doubt be many pheasant breeding on the hill as well.
As you are probably aware it is a criminal offence to disturb or destroy birds' nests containing eggs or chicks. It is likely that it would be individual employees or volunteers who would be prosecuted should wildlife protection laws be breached while the gorse and bracken is removed or while saplings are being planted.
I ask Aberdeen City Council to suspend all activities on Tullos Hill until September to avoid disturbing or destroying any active nests. I have notified the Grampian Police Wildlife Crime Unit, RSPB and the SSPCA of the situation.
Yours sincerely,
John F. Robins, Secretary to ACAL