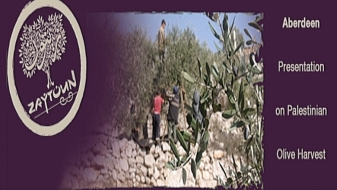 Voice's

Dave Watt

invites readers to come along to a
Talk/Discussion on
Palestine
The Aberdeen branch of the Scottish Palestine Solidarity Campaign (SPSC) are hosting Zaytoun representative Sandy Stuart's talk on his experience of the Palestinian olive harvest.
This is an excellent opportunity to come along and find out about Palestine and a chance to buy Palestinian produce.
"I first became involved with Zaytoun/ Palestine as a distributor for Palestinian products about 7/8 years ago and have been active in this ever since. It then seemed a logical step then to go to the West Bank and support the farmers directly during the olive harvest." – Sandy Stuart
Zaytoun is a Community Interest Company founded in 2004 to create and develop a UK market for artisan Palestinian produce.
The company is a cooperative, and a member of the International Fair trade Association.  As a member of the International Fair Trade Association it's Primary objective lie with the welfare of the producing communities
Quakers Meeting Hall,
98 Crown street, AB11 6HJ
30th June 2011 at 7:30pm