By Sue Good.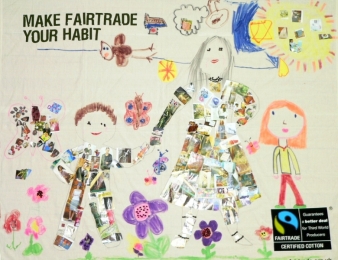 Monday 28th February marked the start of Fairtrade Fortnight and supporters all over the UK will be asked to show off their label, the Fairtrade Mark that is now carried by over 4000 products.
The label guarantees that farmers and growers in developing countries have received a fair price for their goods and for many of them, this makes a vital difference between living and simply existing.
The UK leads the way in Fairtrade and awareness about it is particularly high in Aberdeen. This is due in no small measure to the activities of the local organisation known as the Third World Centre, which has been in existence since 1983.
At the end of Fairtrade Fortnight, the retail part of this organisation, the Fair Trade Aberdeen shop in George Street, will close its doors. Since there are so many Fairtrade products being stocked by supermarkets and given the current recession and rise in rental prices, the shop is no longer commercially viable.
However, there may very well be other ways of continuing the Fair Trade business in the future and there is no suggestion that the organisation will disband. The education department, known as the Montgomery Centre, does an increasing amount of work within the whole of the education sector locally and nationally and the campaigning and administration that maintains Aberdeen's status as a Fairtrade city is also co-ordinated by the organisation.
Local support for this work is increasingly vital. Fairtrade events have always been held during Fairtrade Fortnight and this year is no exception.
On Friday 4th and Tuesday 8th at the shop we will be inviting people to decorate a flag to add to the Fairtrade Foundation attempt at creating the world record length of Fairtrade cotton bunting. The finished product, with flags from all over the UK, will be presented to the World Trade Organisation's next meeting in Geneva, encouraging them to consider more urgently the plight of cotton farmers in West Africa.
Please do come along and join us between 10am and 4pm on Friday 4th and Tuesday 8th March at Aberdeen's Fair Trade Shop, 101 George Street.
For more information about Aberdeen Fairtrade, Click here.