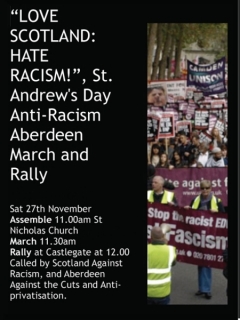 With thanks to Mark Chapman of PCS Union.
On Saturday 27 November at 11.00, Aberdeen Trades Union Council members, trade unionists and representatives of community groups from throughout Aberdeen will march from St Nicholas Church, Union Street, to an anti-racism rally in Castlegate.
A range of speakers will talk about racism, the anti-public sector cuts campaign and the campaign against privatisation of Royal Mail.
Mark Chapman of the Public and Commercial Services Union (PCS) commented:
"We have recently seen activity by the BNP and National Front in Aberdeen. In a number of cases they have distributed racist literature to children outside city schools. There is no place for these beliefs in our society and Saturday's march and rally is our opportunity to get this message across. Please join us to send out a clear signal – these people are not welcome in our community.
"Public sector cuts will have a huge effect in and around Aberdeen. With the city council set to make cuts of £127 million, there cannot fail to be a detrimental effect on every member of our community.
"Royal Mail privatisation will also lead to huge job cuts. This is a service that we all rely on and can trust. To privatise it would lead to a less-accountable and far more costly service for users".