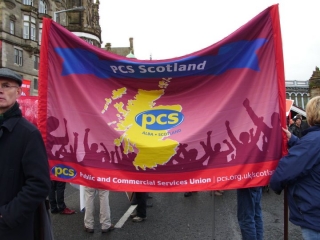 With thanks to

Mark Chapman.
Up to two hundred and thirty seven local jobs in Her Majesty's Revenue and Customs are at risk, warned Public & Commercial Services Union today, following George Osborne's Comprehensive Spending Review announcement.
Local Union Leader Mark Chapman issued the warning after Osborne announced cuts of more than 15% in the HMRC budget, and HMRC Chief Executive Lesley Strathie announced to staff that upwards of thirteen thousand additional jobs would be lost.
Previously agreements won by the Union have offered protection to staff in 'strategic' offices, and have secured transfers to those sites for staff in other locations.  In this new climate of cuts, all bets are off, and all HMRC offices once again face the risk of closure.
No definitive announcements have been made yet on which offices are to close, but insiders suggest that the Department will be seeking to utilise any lease breaks available to them, regardless of location, to carry out cuts as quickly as possible.
Mr Chapman said, "As a matter of priority, we will be seeking confirmation from the Department of the lease breaks that exist on the rented office space at Ruby House, Ruby Place Aberdeen.
There is £123,000 million that could be collected in tax that is immorally dodged
"We believe that members deserve candour and honesty from their employer at this difficult time, but instead local managers' hands are tied by the desire to provide as much publicity as possible for George Osborne and his pals."
Local frustrations and concerns are not divorced from the wider national picture, though, said Mr Chapman; "There is £123,000 million that could be collected in tax that is immorally dodged.  HMRC staff could and should be collecting that money, and so we reject entirely the notion that jobs should be lost where people could be redeployed usefully to getting that money in.
The PCS supported the buses running from Aberdeen to the "There is a Better Way" demonstration in Edinburgh on Saturday 23 October, and at the demonstration our members gave vent to their frustrations with a Government that is hell bent on cuts at any cost."
PCS, the Public and Commercial Services Union is the union representing civil and public servants in central government. It has more than 270,000 members in over 200 departments and agencies. It also represents workers in parts of government transferred to the private sector.  Over 34,000 members are based in Scotland.  PCS is the UK's sixth largest union and is affiliated to the TUC. The general secretary is Mark Serwotka and the president Janice Godrich.  The Scottish Secretary is Lynn Henderson.
For further information, please contact Mark Chapman, PCS Aberdeen & Inverness Revenue & Customs Branch President on 0798 447 9628.