By Dave Watt.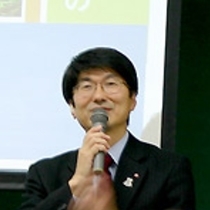 Nearly one hundred people crowded into meeting room 6 in the Art Gallery on Tuesday evening to hear the Mayor of Nagasaki speak about the atomic bombing of Nagasaki.
Mayor Taue told the audience about Nagasaki's involvement in the international movement towards nuclear disarmament.  He was followed by Takashi Yoshihara, Chairman of Nagasaki City Council and a survivor of the nuclear attack, who spoke about his family's experiences during and after the atomic bomb attack.
The Director of the Nagasaki Atomic Bomb Museum, Tomoo Kurakawa, then passed round a series of pictures and explained about the horrific effects of nuclear weapons.  Questions from the audience followed, and the speakers put forward compelling arguments for abolishing nuclear weapons.  The meeting ended with warm applause.
The Mayor and his colleagues were being hosted by Aberdeen City Council as part of the Citizens' Friendship City link-up with Nagasaki. This event was organised by Aberdeen CND group.