Miscellaneous
Mon 1st Nov.
7.00pm for 7.30pm start, Woodend Barn, Banchory
Climate Change and Scotland – What can we do about it ?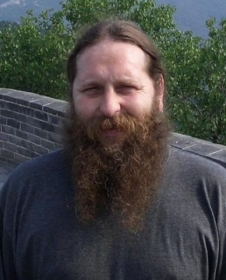 An illustrated presentation by our local member of the IPCC Professor Pete Smith FSB FRSE

Pete lectures on Soils and Global Change at Aberdeen University. Since 1996 he has served on Intergovernmental Panel on Climate Change (IPCC) which was awarded the Nobel Peace Prize in 2007. He was the Convening Lead Author of the Agricultural Greenhouse Gas Mitigation chapter of the IPCC Fourth Assessment Report (Working Group III). He has coordinated and participated in many national and international projects on soils, agriculture, greenhouse gases, climate change, mitigation and impacts, and ecosystem modelling. He is a Fellow of the Society of Biology, a Research Fellow of the Royal Society (London), and a Fellow of the Royal Society of Edinburgh.

All welcome FREE ENTRY
Organised by Banchory Energy Reduction Initiative (BERI). BERI is a Climate Challenge Fund project working with the Banchory community to conserve energy in the home and through travel.
Information online at www.banchory.org
Tues 2nd Nov.
7.30pm, Aberdeen Art Gallery, Room 6
PUBLIC MEETING WITH THE MAYOR OF

NAGASAKI

–

A TALK A NUCLEAR FREE WORLD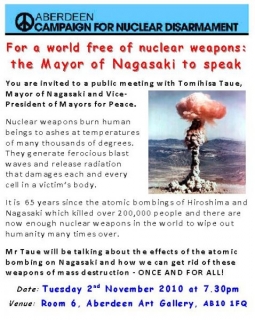 The long running controversial subject of Nuclear Weapons comes to the fore in Aberdeen next week when the Mayor of Nagasaki will be speaking on behalf of a nuclear free world. Tomihisa Taue, Mayor of Nagasaki and Vice President of Mayors for Peace will be talking about the effects of the atomic bomb dropped on Nagasaki on August 9th 1945. In the initial explosion and over the succeeding years over 200,000 of Nagasaki's men women and children died agonisingly either from blast, burns, crushed limbs and bodies and latterly of leukemia, cancers and other tumours.
Mayors for Peace has over four thousand member cities in one hundred and forty four countries world-wide – sixty two of which are in the UK.


Comedy
Tues 2nd Nov.

7.30pm, Snafu
MARK NELSON, TONY LITTLER, SEAN GRANT, ASIM ALI, ANDREW LEARMONTH
£3/4/5
8.00pm, Music Hall
SEAN LOCK
£17.50+BF
Music
Sat 30th Oct.
4.00pm, One Up (instore gig)
STEVEN MILNE
7:00pm, Snafu
LITTLE COMETS, Plus Support
7:30pm, Lemon Tree
THE COAL PORTERS
£12+BF
8.00pm, Café Drummond
AKA SKA
8.00pm, The Moorings
GOTHIC DORICS
8.00pm, Captain Tom's
Cirque-de-Sinister Halloween Party
THE RUCKUS, BROTHERS REID, SMOKIN CATFISH, THE WETFLEX
£5

11.00pm, The Tunnels
Rampage Rockclub
SATURDAYS IN ABERDEEN JUST GOT F**KING AWESOME!!
ABERDEEN NOW HAS A PREMIER SATURDAY ROCKCLUB.
http://www.facebook.com/rocknightaberdeen
Sun 31st Oct.
5.00pm to 7.00pm, Doonies Farm,  The Coast Road, Nigg , Aberdeen
Fire Walk Experience
An event to raise funds for future choices and Create Aberdeen ( see Article )
8.00pm, The Tunnels
GOO GOO MUCK ( Cramps tribute )
8.00pm, Carmelite Hotel, Stirling Street
Open Mic Session ( every Sunday. )
9.00pm, The Moorings
The Jam Factory ( every Sunday. )
Bands, acoustic musicians, jammers, poets etc. all welcome.
Mon 1st Nov.
7.30pm, The Tunnels
THEM:YOUTH Plus Support
£5
9.00pm, Blue Lamp
Traditional Acoustic Session. All welcome.
10.00pm, Café Drummond
Open Mic Night ( Every Monday )
Soloists, Poets, Musicians, Maniacs, and Full Bands Welcome.
( Full back line provided ) For more info, call 01224 619930
Tues 2nd Nov.
7.30pm, Lemon Tree
THE DIVINE COMEDY

Wed 3rd Nov.
7.30pm, Music Hall
LEE MEMPHIS KING (Elvis Tribute )
£18.50+BF
Thurs 4th Nov.
7.30pm, Cafe Drummond
6 DAY RIOT Plus Support
7.30pm, Project Slogan, 48 Langstane Place
MARK McCABE AND FRIENDS
Donation on entry
8.00pm, Shelley Leighs
The Big Mic Up – Hosted by Dave Moir and Kenny McLeod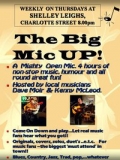 Get off the couch! come down to Shelley Leigh's and hear the music, be part of the vibe, Come along folks to Dave and Kenny's open mic night . If you like to play, or just to listen then be prepared for a night of great music at Aberdeens latest musical cultural venue.
Fri 5th Nov.
7:30pm – 8:30pm, Music Hall

THE SALSA CELTICA BIG BAND with very special guests including JULIE FOWLIS and DERMOT BYRNE.
7.30pm, Lemon Tree
DAVE ACARI
£7+BF
8.00pm, Beach Ballroom
MERSAULT, THE DEPORTEES, AMBER WILSON, DEBUTANT
£7.50
8.00pm, Café Drummond
JAMES WALSH ( Starsailor ) Plus Support
8.00pm, The Moorings
DEATHWATCH, THE WRECKING BALL ( CLUB NIGHT )
Sat 6th Nov.
7.30pm, The Tunnels
FOUND, INDIAN RED LOPEZ

8.00pm, Blue Lamp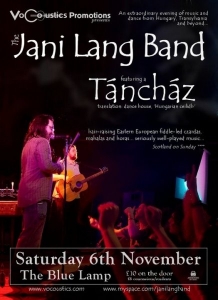 JANI LANG BAND (Plus a Hungarian Ceilidh )
A táncház, meaning dance house, is the Hungarian ceilidh where people gather to enjoy, dance or learn traditional dances and music..
Over the years they have stunned audiences at most of the Scottish folk festivals, such as the Shetland Folk Festival, Orkney Folk Festival, Edinburgh Fringe, Scots Fiddle Festival, etc.
Their táncház will start with a performance of music followed by a ceilidh of Hungarian and Transylvanian dances led by a professional dancer from Hungary.
Come along to experience a real Hungarian ceilidh and dance the night away with the band!
8.00pm, The Moorings
BAD BAD MEN, WHOLE SKY MONITOR, DIGITAL SIN
8.30pm, Tilted Wig
THE OXBOW LAKE, LUIZA STANIEC

9.00pm, Café Drummond
CANCER BATS
11.00pm, The Tunnels
Rampage Rockclub
SATURDAYS IN ABERDEEN JUST GOT F**KING AWESOME!!
ABERDEEN NOW HAS A PREMIER SATURDAY ROCKCLUB.
http://www.facebook.com/rocknightaberdeen