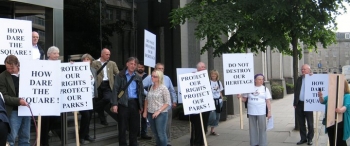 By

Sara-Jane Duffus.
On Saturday September 18th, Friends of Union Terrace Gardens held their first AGM to formalise the committee.
The meeting opened 15 minutes late – due to a larger than anticipated crowd – to a packed St Mark's Hall.
Members of the group gave short presentations on the work that had been done so far and what the group still hope to achieve.  Later discussions were opened up to the audience and the aims of the group were set.
After the committee were formally elected, the audience were invited to move around the hall to the different stands set up by the friends to discuss in more detail what has been achieved and all were invited to help in any way they could.
Mike Shepherd, now elected Chair, closed the meeting by reading to the audience statements from the Scottish party leaders regarding the fate of Aberdeen's unique Victorian Gardens.
Mr Shepherd said "We intend  to do our utmost in the campaign to save Union Terrace Gardens. Our ultimate aim once we win our fight to keep the city centre gardens, is to evolve into a trust much like the Friends of Duthie Park, to attract funding for the upkeep of the gardens and to organise social events on a regular basis. To some extent we are doing this already as witness the number of events that have taken place in the park over the last few months."
Friends of Union Terrace Gardens formed early this year after Aberdeen City Council approved Sir Ian Woods controversial plan to transform the Victorian Gardens into a modern Civic Square.
The Friends can be contacted via their website – www.friendsofutg.org