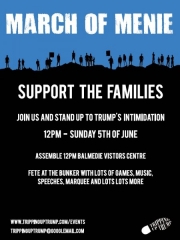 With thanks to Tripping Up Trump.
In March 2009 the Trump Organisation asked Aberdeenshire Council to use Compulsory Purchase Orders to remove local residents from their homes.
Earlier this year, after almost two years of this threat, the Trump Organisation announced that they would no longer seek the use of these powers, while continuing to deny that they had made the original request.
To celebrate the withdrawal of the Compulsory Purchase threat to the homeowners at Menie, Tripping Up Trump have decided to hold a second March of Menie on Sunday the 5th of June 2011.
Similar to the first, very successful, March that took place in October of 2010, it will involve people gathering at the Balmedie Country Park Visitor Centre at 12 noon and walking through the dunes to The Bunker (a site of multiple ownership) where there will be a number of attractions provided for people of all ages.
Information will be available to educate those who are not impressed with the propaganda and misinformation put out by the Trump Organisation.
For those of you unfamiliar with the forthcoming movie You've Been Trumped, Here is the trailer once again.
The first screening of You've Been Trumped will take place at the Belmont Cinema in Aberdeen at 8.30pm on Friday 17 June.
More Info … https://www.facebook.com/pages/Youve-Been-Trumped/187472834621346
Tripping Up Trump is a campaigning organisation based in the North-East of Scotland, formed to fight the environmental destruction being carried out by the Trump Organisation and support the Menie residents whose homes and land have been threatened with Compulsory Purchase and continue to be intimidated and bullied by the Trump Organisation.
Writer and researcher, Andy Wightman, has recently compiled a report on Trump's Ego Trip at Menie. Andy will be one of the speakers .
Some fascinating insights to be shared for sure.