With Thanks to Gordon Maloney.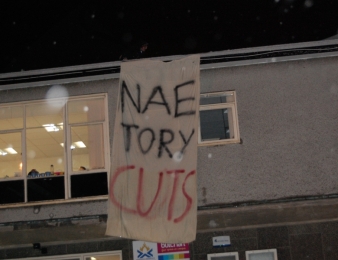 Students at Aberdeen University today took part in a national day of action against cuts to the Further and Higher Education budget.
Demonstrations and actions were carried out by groups across the country and in Aberdeen a banner reading "Nae Tory cuts" was dropped from the roof of the Students' Association building on University Road.
A spokesperson made the following statement before dropping the banner:
"There are some people who would say that our demands are selfish, but we are here today to challenge much more than just cuts to Universities. We are here today to challenge the idea that the entire public sector can be hung, drawn and quartered while the Coalition Government continue to give money to a failed banking system.
"We, and tens of thousands of other students and workers across the country, will not tolerate the savage cuts on the most vulnerable in society while it is business as usual for those at the top."