By Pete Thomson.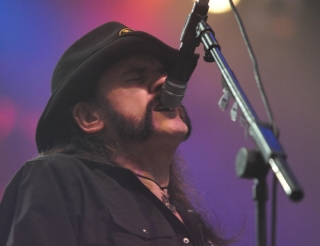 Motorhead. I only know three of their songs, but I do have a big soft spot for Lemmy Kilmister. When he was kicked out of Hawkwind in 1975 for 'doing the wrong drugs,' he formed Motörhead and never looked back. It's more than 20 years since they were in town and when I hear they're due to play the relatively cosy Music Hall, I just have to get tickets.
Due to "unprecedented demand," however, the gig is moved to the infamous AECC. The prospect of an evening in that miserable, miles-from-nowhere hellhole holds considerably less allure but neither Lemmy nor I are in the first flush of youth and I might never get another chance to see him. Not in this world, anyway.
Ms. Ashby and I battle through gale-force winds on the night, stumbling into the AECC minutes before the band comes on. As we enter the arena, a few faces from the golden age of Radars drift by. For a moment the years seem to melt away, but there's no Rosie behind the bar and beneath the varying degrees of intoxication obvious in my erstwhile drinking buddies there's a discomforting but undeniable air of decrepitude. None of us is getting any younger.
Motörhead shortly hit the boards to deafening acclaim and launch into being, well, Motörhead. With Lemmy growling famously away beneath his customised cowboy hat, Phil Campbell throws a few guitar heroics while, high over the stage, Mikkey Dee thrashes madly at his kit for all the world like Animal from The Muppets. Nothing new there, then: cacophonous, no-frills rock and roll that sends the moshers about their somewhat less than solemn business of going loopy. Let's face it, though, your average Motörhead fan is happy as a pig amongst the proverbial as long as they hear Ace Of Spades at some point and everything else at 150 decibels. Fair play to that.
she's unusually pale beneath the sonic onslaught
But I'm not your average fan. Apart from the light show being downright ordinary, the sound is terrible and it's dawning on me pretty damn quick why I stopped listening to this kind of stuff 30-odd years ago.
Yes, I can see why their music has been called "a beacon of defiant celebration," and I do love the punk ethic that underpins everything Motörhead stands for; it's just that after three numbers, they haven't got an awful lot left to offer.
Ms. Ashby observes that maybe Motörhead is 'a male thing'. Here against her better judgement, she's unusually pale beneath the sonic onslaught but correct. Between hordes of headbangers having a ball and the hundreds of vaguely disappointed punters shuffling around uneasily at the back, there are very few women. Seven songs in, it's time to go. We leave them to it.
It's all been a bit of a let down; but that's the trouble with legends, at least those with whom we're largely unacquainted. Go see any revered artist without the emotional resonance that comes from hearing them at our most pivotal moments and we're reduced to little more than interested spectators. Sometimes that works but it can be a recipe for disaster.
I remember how not even the warm intimacy of the Music Hall could save country giant Willie Nelson from being well past his sell-by date. Without that cushion of sentimentality, I saw not the wonderful show I'd hoped for but a tired old man going through the motions. The old trouper's voice was shot, the show cloyingly contrived. But the majority of the crowd couldn't care less. They loved him. Like Lemmy, he soldiers on regardless. Somehow, that's exactly how it should be. Who wants to live forever, anyway?