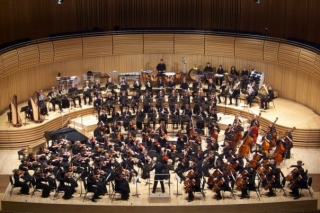 By Fred Wilkinson with thanks to Stuart Reid.
Thousands in Aberdeen are shocked and distraught by the news last week of Aberdeen City council's proposal to cease funding schools based music tuition via closure or privatisation of its Music Service.
The service consists of 50 music instructors who teach all orchestral instruments and singing, guitar, piano/keyboard and bagpipes in schools in Aberdeen.
If approved on Dec 3, the proposal would effectively bring to an end the entitlement to free tuition and access to a wide range of instruments for students of parents in receipt of Income Support or Child Tax Credits.
The news has sparked outrage amongst students, former students and teachers in the Aberdeen area and, in addition to a 6000 strong Facebook Campaign [1] and a 1859 strong petition [2], it is expected that more than a thousand people will attend a demonstration against the proposal on November 30th. [3]
The proposal to withdraw music tuition is one of twenty-two proposed cuts to education, culture and sports services on page 21 of Aberdeen city council's Priority Based Budgeting Final Draft Report. [4]
A final year education student told Aberdeen Voice of her concerns:
"I feel very strongly about this issue as I am currently about to become a primary school teacher and I have already witnessed first hand how music improves attainment in all subjects, fosters team spirit and sustained hard work."
As well as the loss of a valued educational facility, it is feared that jobs in music education may be axed, and it is unlikely that the pool of instruments currently in circulation will be maintained. The opportunity to simply enjoy music in a supportive environment is perhaps unseen, and unquantifiable – and therefore may be an easy target when requiring to make savings
1% of the education budget ensures that 14% percent of school pupils receive music tuition
There is a danger that the term "you don't miss what you've never had" may be a strong card in how this proposal plays out. If so, then it is a good time for musicians and music students to shout loud about the value of music tuition and its part in determining their life choices.
Former pupil of Aberdeen Music Services Stuart Reid is all too aware of the value of the service he has enjoyed:
"My experiences there have profoundly influenced what I now do. It was the exceptional tuition and wide range of youth groups run by the service that first let me experience the joy of music making.  I am presently a final year music student at Birmingham Conservatoire; if it had not been for the music service then I would not be doing what I am now.
"Aberdeen City Council has good reason to take pride in its music services. Most importantly it can take pride in the men and women it employs in this department, whose wealth of knowledge and devotion to their profession help maintain the services consistently high standards. This is entirely the wrong area to assess in cost saving measures.
Indeed, accounting for just 1% of the education budget, the music service surely represents excellent value for money. On the 'Help Aberdeen Music Service' page on Facebook, Cllr Martin Greig comments:
"14% of the school population benefits from this service. Music education is a tradition of which we can be justifiably proud"
Let us look at those figures again. 1% of the education budget ensures that 14% percent of school pupils receive music tuition (the percentage who benefit will be somewhat higher).  Is it just me, or does this read like a case for increasing that element of funding?
Opposition to the proposed cuts might gain encouragement from the fact that a similar proposal by Fife council to cut £434,000 from the schools music service budget has been deferred following a sustained campaign against the move. [5]
However, Mr. Reid has been overwhelmed by the response to the Facebook page he created to gather support in opposition to the proposal [1]. At the time of writing, only five days after the page launch and the posting of 60 invites, the link been distributed to over 6000 groups and individuals urging all concerned to write to members of the Finance and Resources committee before 3rd December.
In his own letter to committee members, Mr Reid states:
"The far reaching benefits of music education are sadly rarely recognised. In brief, pupils have been shown to benefit both educationally and socially from music instruction.
"All pupils, regardless of personal ability stand to benefit from music education, but Aberdeen Music Service gives a quality of education that grants another tier of benefit. An astonishing number of pupils involved with music groups at the city's music centre go on to perform at national level in organisations such as the National Youth Choir of Scotland and the National Youth Children's Orchestra, Jazz Orchestra and Orchestra of Scotland. Many others go on to study at prestigious universities and music colleges up and down Britain, contributing to Britain's wealth of arts and culture."
Mr Reid's words resonate strongly. As a professional musician, I owe much to the guitar tuition I received in secondary school. As one of many casualties of severe cuts to Social Care services, I consider myself more fortunate than most in that I am able to make a living from playing a musical instrument.
Many of my fellow professionals in the field of music will cite schools based musical instrument tuition as the foundation for their present level of expertise. As well as the means to earn money, we have enjoyed many opportunities to travel – sometimes to unusual and exciting places and events, making precious acquaintances in the process of presenting our own local/national culture worldwide.
It is extremely sad that this valuable, yet undervalued service has come under threat, and a generation could be denied the fantastic opportunities and experiences myself and my colleagues have enjoyed by way of our education in music.
Sources
[1] http://www.facebook.com/profile.php?id=684606295#!/event.php?eid=160768090626312
[2] http://www.facebook.com/l.php?u=http%3A%2F%2Fwww.gopetition.com%2Fpetition%2F40692.html&h=a03db
[3] !/event.php?eid=140848399298674
[4] http://www.aberdeencity.gov.uk/web/files/next_five_years/nfy_pbb_final_report_oct2010.pdf
[5]http://www.thecourier.co.uk/News/Fife/article/7487/cuts-threat-removed-from-music-in-schools-for-now.html