By George Anderson.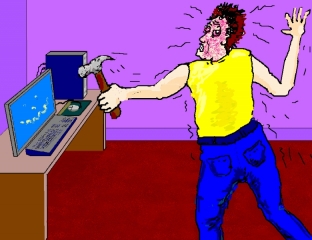 I just wanted my service provider to restore my broadband and telephone — after all that's what I was paying for.
During the Cold War, the KGB was known for telling those they abducted not to worry, that everything would turn out fine. Over the last five weeks I have discovered that good old British Telecom has adopted this technique for its victims/customers too.
During this time I have been repeatedly told by BT and their agents across the planet that all would be well. On one rare occasion when inter-human contact actually took place, I was told by the service agent that whatever I did, worrying would be superfluous, because he would single-handedly take total responsibility for fixing the problem and would rather sell his children to the gypsies than fail in his mission.  I hope he got a good price.
To date, lines have been tested and re-tested. A new hub was sent. It still doesn't work. I have reset the device so many times I have calluses on my thumb. I have seen promises made. I have seen promises broken. The one thing I haven't seen is a telecoms engineer. I am beginning to doubt their existence.
But, as a glass-half-full sort of fellow, I need to view these problems positively. The flashing error lights on the broadband hub will make an interesting festive decoration at Christmas.  And I have taken to leaving a couple of Jaffa Cake shavings and a thimble of rose water on the patio of an evening, in the hope that the broadband fairy will drop by with her magic spanner and fix the problem once and for all.