Aberdeen students protest in London over education funding and youth unemployment. With thanks to Xander Brouwer.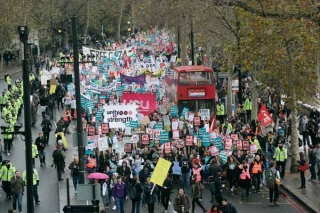 Aberdeen students joined over a thousand others from Scotland and tens of thousands from across the UK on the National Union of Students' demonstration in London on Wednesday. They made the 24-hour, thousand-mile round trip to campaign against the impact of government policy and its lack of opportunities for students and graduates.
Anne-Claire Deseilligny, President of Aberdeen University Students' Association, said:
"Today, many students will make the long journey from Aberdeen to march with others from across the UK and make a stand against disastrous decisions by the Westminster government, decisions felt right across the UK.
"While Holyrood can do more in many areas, you don't have to look far to see that some of the biggest impacts being felt by students can be traced back to Westminster.  
"There is a crisis in youth unemployment, huge fees for RUK students, colleges losing their ability to recruit international students and the continued attempts to turn UK education into a market. All these are problems created by Westminster and need, ultimately, to be fixed by Westminster.
"We'll be marching beside students from across the UK to make the point to the Westminster government that students and young people deserve better. They need to urgently reconsider their discredited austerity measures or risk consigning a generation to the scrapheap.
"They need to recognise that education and employment are the solution to a better economy, not something to put up barriers to, or shut people out of."   
 For more information see: http://www.demo2012.org.uk/
Comments enabled – see comments box below. Note, all comments will be moderated.