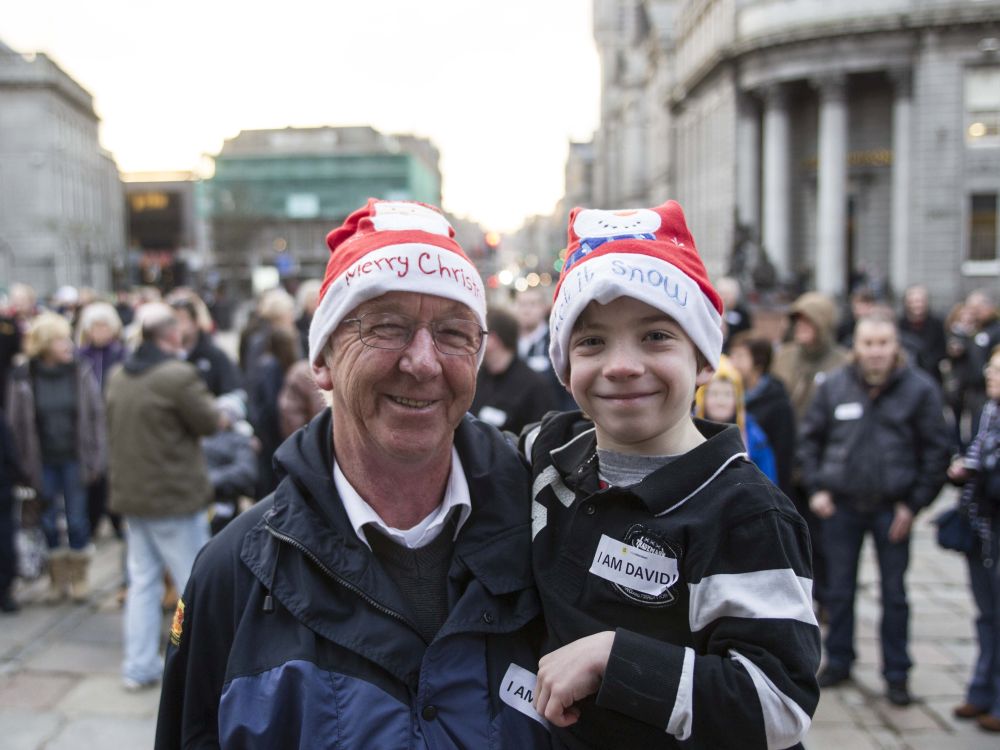 With thanks to Eoin Smith, Senior Account Executive, Tricker PR
Dozens of Davids are required for an encore performance to break a world record in Aberdeen.
Davids, Daves and Davies from across the north east are being sought to join the Choir of Davids at the Castlegate in Aberdeen on Sunday 23 November 2014 at 3pm.
The massed Choir of Davids will sing the Christmas carol 'Once in Royal David's City' in an attempt to top the 121 tuneful singers gathered last year in an attempt to create the largest choir sharing the same name.
VisitAberdeen, the destination management organisation behind the Choir of Davids, was impressed with last year's turnout but is convinced that Aberdeen has more to offer.
Although not officially recognised by Guinness World Records due to the topic being too narrow, organisers believe that the 2014 Choir of Davids was the biggest gathering of Davids in the world all signing 'Once in Royal David's City'.
Davids are being encouraged to spread the word via Twitter and Facebook, sharing photos of themselves holding signs proudly stating "I am David!" and using the hashtag #areyoudavid in the run up to the event.
Steve Harris, Chief Executive of VisitAberdeen, says:
"We were thrilled to have so many Davids turn up to support our record attempt last year and hope to top the number this year with a melodic encore. Everyone's got a friend called Dave, and we hope to hear all of them singing their hearts out at the Castlegate. We encourage all Davids to Tweet and Facebook their intention to take part in order to spread the word.
"Aberdeen's festive celebrations fill the city with Christmas cheer every November and December, and we're delighted to be a part of this again. The Christmas Lights Switch On Parade follow will follow our world record attempt at 5pm on Union Street, meaning the city centre will be buzzing with festive cheer.
"With great Christmas shopping opportunities and a full programme of events in the Winter Festival, we're encouraging more people to consider the city for a festive break."
The event is not limited to those bearing the name David, and VisitAberdeen encourages everyone to come and support the magnificent Choir of Davids which is guaranteed to get the festive season off to a great start.
The carol 'Once in Royal David's City' was written and published by Miss Cecil Humphreys in 1848 as a poem, before being set to music a year later. The Festival of Nine Lessons and Carols at Kings College in Cambridge, which is broadcast annually, traditionally begins with a boy chorister singing the first verse of the carol solo.
Keep up to date with Aberdeen's record attempt by visiting the Facebook page at www.facebook.com/areyoudavid or follow the event on Twitter www.twitter.com/areyoudavid2014  using the hashtag #areyoudavid
Comments enabled – see comments box below. Note, all comments will be moderated.