With thanks to Cristina Clemente.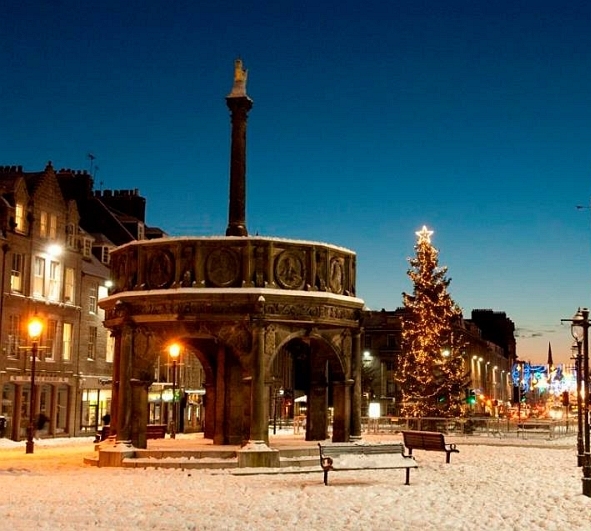 A plea is being issued to all people over the age of 7 who are called David and live in Aberdeen and Aberdeenshire, to help create a new world record and to help put Aberdeen on the map for festive visitors.
Destination marketing organisation VisitAberdeen aims to create a new world record for the most people called David singing the Christmas Carol, Once in Royal David's City.
The World Record bid will take place at 3pm on Sunday 24th November at the Castlegate in Aberdeen.
Davids, along with variations like Dave and Davie, are invited to lend their voices for their city, in what promises to be a Christmas sing-along with a difference.  The stunt is part of a bid by VisitAberdeen, to shine the spotlight on Aberdeen and encourage more people to take a short festive break in Aberdeen during the annual Winter Festival.
In order to help organisers with planning, Davids are encouraged to tweet or Facebook if they plan to attend at the world record attempt.
Chief Executive of VisitAberdeen (who, sadly, is not called David) Steve Harris said:
"Aberdeen is full of festive celebration throughout November and December and with our excellent Christmas shopping offering, our first-rate restaurants and pubs and a full programme of events in the Winter Festival.  We're encouraging more people to consider the city for a festive break.  
"We're hoping that Davids of the area will help us to set this world record on Sunday 24th on the same day as the Christmas lights are switched on in Union Street.  Santa hats are optional!"
The carol Once in Royal David's City was originally written by Miss Cecil Humphreys, who also wrote another much loved hymn All Things Bright and Beautiful, was published in 1848 as a poem and set to music a year later.
The Festival of Nine lessons and carols at Kings College, Cambridge, which is broadcast annually, traditionally begins with a boy chorister singing the first verse of Once in Royal David's City solo.
Keep up to date with Aberdeen's world record attempt by visiting the Facebook page at www.facebook.com/areyoudavid2013 or follow the event on Twitter at www.twitter.com/areyoudavid2013
Comments enabled – see comments box below. Note, all comments will be moderated.