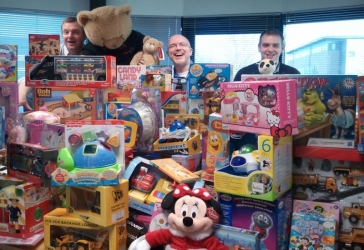 With thanks to
Claire McBain.
VSA, the UK's largest city social care charity, supporting more than 2,500 people in Aberdeen each year, has launched it's festive campaign to ensure as many local children as possible have a present to open on 25 December at its Christmas Inspirations shopping evening, sponsored by Prestige Scotland.
Campaign co-ordinator Debbie Fotheringham said:
"Not every child is lucky enough to have a gift of their own on Christmas morning. For some, the harsh reality is that their families can't stretch to provide presents for them and their siblings, leading them to the wrong conclusion that they've been naughty this year. We want to replace these situations with classic Christmas spirit."
Like last year's inaugural event, Christmas Inspirations took place at Pittodrie Stadium's Richard Donald Stand. Shoppers were welcomed with cocktails and canapés courtesy of Prestige Scotland, festive tunes and a fantastic selection of food, art and gift-themed stalls. 
The appeal will continue at drop-off points across the city until the week before Christmas.
Debbie continued:
"We'd really appreciate if gifts were brand new and not wrapped. Gift vouchers are great too for the older children.
"We had an amazing response to our appeal last year, helped by individuals and companies gathering gifts, as well as local businesses that acted as drop-off points. We were able to supply each child that's part of VSA with a couple of treats from Santa and had plenty goodies left to share with others in the city and shire. I'm looking forward to topping last year's results over Christmas 2012."
VSA will be collecting toys at its Christmas Inspirations evening and at the drop-off points listed below:
• VSA, 38 Castle Street, Aberdeen AB11 5YU
• VSA's Northfield Lodge, Provost Fraser Drive, Aberdeen AB16 7JY
• Citrus:Mix, Bon Accord House, Riverside Drive, Aberdeen AB11 7SL
• Original FM, Original House, Craigshaw Road, Aberdeen AB12 3AR
Additional drop-off points will be announced on the VSA website (www.vsa.org.uk), where a list of suggestions of age-specific toys is also available for inspiration.