VSA Aberdeen's annual Diamond Ball was a massive success. Supporter Garreth Wood of the Speratus Group boosts the feelgood factor by announcing an extra 3-year commitment to the charity. With thanks to Claire Mcbain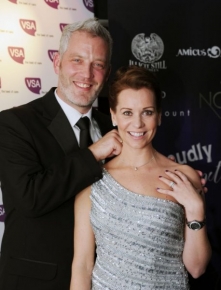 The UK's largest city social care charity VSA raised more than £130,000 at its Diamond Ball on Saturday 03 November.
This total was reached combining a silent auction, live auction and funds raised when loyal VSA supporter and main ball sponsor Garreth Wood donated a full day's takings from four of his city bars totalling more than £48,500.
Garreth, of The Speratus Group, has supported VSA for three years through its ball and associated fundraisers. He has also contributed staff time through corporate volunteering.
His initial three-year pledge was completed last night but Garreth delighted ball guests by announcing an additional 3-year commitment to VSA worth around £250,000.
"I'm over the moon with what we raised last weekend for such an incredible cause," said Garreth. "I'm so very proud of our enthusiastic, hardworking staff and I'm really grateful to the people of Aberdeen. We challenged them to come out and support VSA and they absolutely surpassed our expectations.
"Working closely with VSA over the past three years has been very fulfilling for me and my team. I'm very much looking forward to growing that relationship over the next three years. I feel very much part of the VSA family and I'm fully committed to their worthy cause.
"Part of the Speratus Partnership's mission is to develop young people with learning difficulties and disabilities and, personally, I'm very passionate about providing high standards of care to our elderly population. Naturally, my pledge for the next three years will focus on these areas within VSA."
VSA Director of Fundraising and Communications Karen Barlow said:
"The event was a sell-out and I'm delighted with how much our generous guests raised for VSA through the silent auction, live auction and raffle. Events like this are essential to make sure VSA can continue supporting people in Aberdeen city and shire each year.
"Garreth has raised hundreds of thousands of pounds for VSA over the last three years and we're ecstatic to have him on board for longer than expected. He really understands VSA and he's passionate about helping us achieve our goals. We're so excited and already forming plans for the next step."
This year's ball was themed to honour VSA patron Her Majesty the Queen's Diamond Jubilee and attracted almost 350 guests to Aberdeen's Ardoe House Hotel. To celebrate the jubilee, a diamond necklace donated by Garreth and supported by Finnies the Jewellers was raffled and won by one lucky lady.
The event was also sponsored by chartered accountants Simpson Forsyth, oilfield service company Roemex Ltd, NYOP Education and luxury hamper company Highland Fayre. Principal sponsor Garreth traditionally marks the ball date by donating monies from several of his Aberdeen bars. This year all four city centre hotspots – Amicus Apple, Illicit Still, Paramount and NOX – took part in the fundraiser.