This week, 121 men and boys named David went Christmas crackers in a bid to create a world record for a choir performing Once in Royal David's City … consisting entirely of singers called David. With thanks to Beverly Tricker.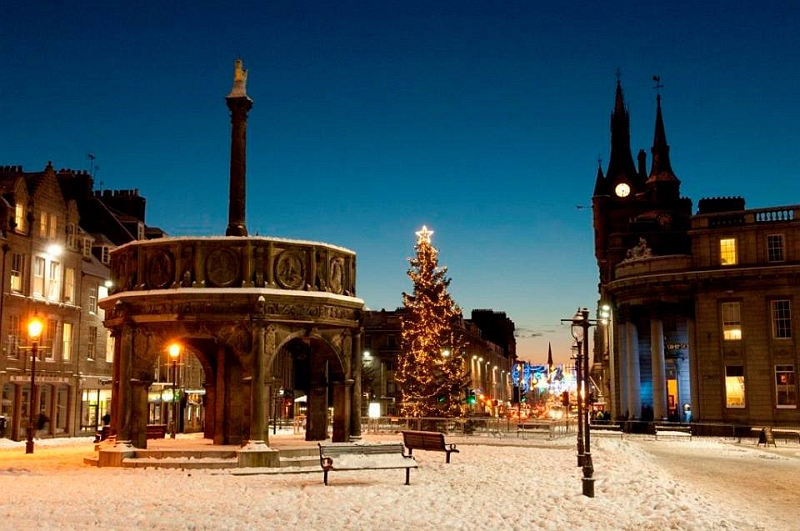 Scores of dulcet toned Davids, Daves and Davies lined up at the Castlegate in Aberdeen at 3pm on Sunday to help to create the record.
The event was aimed at publicising the city's Winter Festival and to coincide with both the annual switching-on of the Christmas lights and the reindeer parade.
The record attempt will also be submitted to the Guinness World Records for consideration as marking a world record.
Steve Harris, chief executive of VisitAberdeen, said,
"We're staggered at the support we've had from local Davids and their families for this record attempt. Getting to 100 Davids was our dream number, but to get to over 120 is fantastic.
"Visitors are always impressed by how friendly the city is, so what better way to show that community spirit by organising a record breaking choir singing one of our best loved carols? It was a Christmas sing a long with a difference!
"The name David is always in the top fifty most popular names in Scotland so we were confident of a good response although it might have been a different matter if we had chosen Good King Wenceslas – there's probably not too many sharing that name in our part of the world.
"After today's success however, we may be looking for Hollys to help us to 'Deck the Halls' next year!"
The carol Once in Royal David's City which was originally written by Miss Cecil Humphreys, who also wrote another much loved hymn All Things Bright and Beautiful, was published in 1848 as a poem and set to music a year later.
The Festival of Nine lessons and carols at Kings College, Cambridge, which is broadcast annually, traditionally begins with a boy chorister singing the first verse of Once in Royal David's City solo.
Steve continued:
"Aberdeen is full of festive celebration throughout November and December and with our excellent Christmas shopping offering, our first-rate restaurants and pubs and a full programme of events in the Winter Festival. We're encouraging more people to consider the city for a festive break."
The Winter Festival lights up the North east city of Aberdeen until January with a jam-packed schedule of festive events. There's something to suit everyone – from spectacular fireworks and exclusive concerts and from candle lit choirs to interactive pantomimes. And if you're really feeling brave, get involved in the 'Nippy Dippy' Boxing Day dip at Aberdeen beach.
The Are You David 2013 world record attempt is just one of the community events putting Aberdeen on the map.