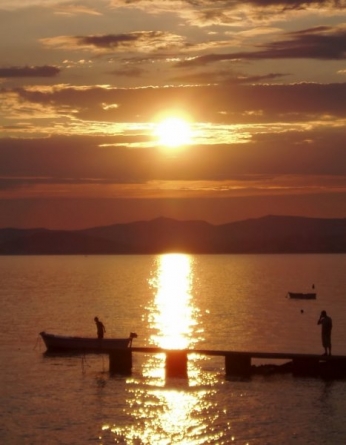 By
Bob Smith.
'Fit's aat up abeen?', says I
Fin a spied an ususual sicht
A yalla orb in the sky
Shinin doon sae bricht
A hid tae rack ma memory
Tae think fit it micht be
It cam tae me sudden like
T'wis the sun fit a did see
It hid been a wee fylie
Since it showed its face
Hail, rain, win an caul
Wis fit we've hid tae face
So shine on richt merrily
Mr Sun ye cheer us aa up
An hae us steppin oot briskly
As tho we wis a young pup
Bob Smith "The Poetry Mannie" 2013
Image: Orange Sunset © Zoran Tripalo  Dreamstime Stock Photos
Comments enabled – see comments box below. Note, all comments will be moderated.