Miles the Bear is left out in the cold as a reindeer packs his bags and heads to Cairngorms National Park winter wonderland in spoof of hit television ad. With thanks to Eoin Smith.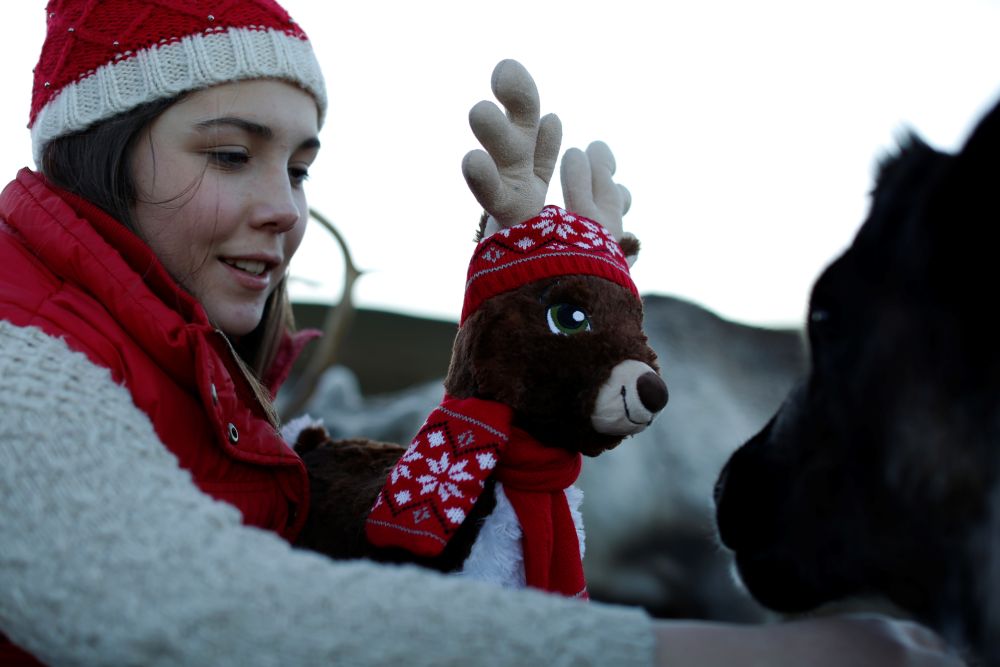 A reindeer's hunt for his festive smile takes centre stage in a heart-warming spoof of one of the UK's most feel-good television ads.
The film, launched 17 December, 2014 by VisitCairngorms, parodies Thomson's 'Miles the Bear' TV adverts, where a one-eyed teddy bear rediscovers his missing smile in Jamaica.
The VisitCairngorms film features a down-trodden reindeer who finds his festive smile in the Cairngorms National Park where he gets to go mountain biking, travel on the CairnGorm Funicular Railway, experience real snow, meet his own kind in the form of the Cairngorm reindeer herd and finally to meet Santa … where he's presented with a girlfriend for Christmas.
The video can be viewed at www.youtube.com/user/VisitCairngorms
The Cairngorms reindeer starts off at home – noticeably 'smileless' – having yoghurt spilled on his antlers, being dragged upstairs upside down, put through the washing machine, hung outside to dry and being attacked by the family dog. But his smile grows as he travels to the Cairngorms National Park – an area of stunning natural beauty in the Scottish Highlands renowned as a winter wonderland ­­- where he is at the heart of family activities
"We wanted to show that you don't have to take the family all the way to Jamaica to escape a drab and dreary life and discover your smile," says Kevin Roach, chairman of VisitCairngorms. "Experiencing the Cairngorms National Park will bring out the smile in the whole family, particularly at this time of year with so much festive spirit about.
"Our reindeer has so much more fun than Miles the bear – who spends much of his holiday on a sun lounger. Like other visitors to the park, he gets the opportunity to skate, visit real reindeer on the mountainside, see Balmoral where the Queen holidays, go mountain biking in Glenlivet and drink hot chocolate in the snow.
"Miles may have been able to work on his tan, but we bet that even his smile will droop a little when he realises that our reindeer came face to face with Santa in a real life winter wonderland right here in the UK.  Don't be too down in the mouth though, Miles – we'd be delighted to have you visit the Cairngorms National Park at any time to enjoy a fun adventure with your family."
Locations for the film included:
The Cairngorms Reindeer Herd – Britain's only herd of 150 free-ranging reindeer in the UK, where visitors can, under supervision, feed and stroke the reindeer.
The CairnGorm Mountain Funicular Railway – where children under five (and reindeer) travel free on Scotland's only funicular railway to the viewing platform and panoramic views at over 3500 ft. It also has the UK's highest post box so the perfect drop off for Christmas cards.
Glenlivet Mountain Bike Trails – Purpose built mountain bike trails through Glenlivet Estate for all ages with spectacular panoramic views
The Potting Shed Tearoom at Inshriach Nursery – a rustic tearoom with a unique viewing gallery to spot birds and red squirrels.
Loch Morlich beach – A blue flag beach in the middle of the Highlands on a sparkling freshwater loch which views of the snow clad mountain peaks.
Balmoral Castle – favoured holiday home of the royal family since the days of Queen Victoria and Prince Albert
The Cairngorms National Park is made up of five different areas – Aviemore and Cairngorms; Angus Glens; Atholl and Glenshee; Tomintoul and Glenlivet; and Royal Deeside and Donside. Visit www.visitcairngorms.com to find out more about what's happening in Scotland's winter wonderland this season.
Comments enabled – see comments box below. Note, all comments will be moderated.