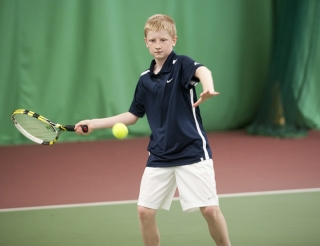 With thanks to
Dave Macdermid. 
This weekend will see Westburn Tennis centre host the annual North County Inter District Red, Orange and Green (ROGY) competition, between the 4 districts in the North County.
This event, now in its 2nd year, was set up by North East District Coach Vikki Paterson
Vikki commented:
 "I am heavily involved in the running of the North County Cup teams from Under 10's  through to Under 18's and this is a great way to see the younger players coming through for the years ahead. It is a great opportunity for the players to play in a team and represent their district."
On Sunday 18th of December the finals of the North East Red and Orange tour will take place, involving the top 8 boys and top 4 girls at Under 8 and Under 9.
This year the ROGY Tour events have recorded over 800 matches, a substantial increase on the previous year, much to Vikki's delight.
"This year NESTLA was granted funding from Awards For All, and this has allowed me to put on more events, including indoors ones too. We have had really good support from the local players and Sunday should provide some great tennis."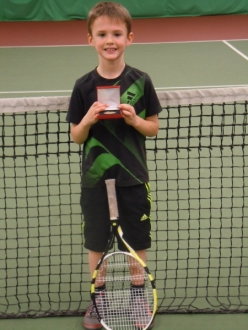 Taking part are:
Under 8 Boys
Cameron Jappy (Westhill)
Ewan Smith  (Alford/ Westhill)
Finlay Smith (Westhill)
Alex Grant (Westburn)
Harrsha Pradeep Kumar (Dls)
Ross Grant (Westhill)
Benjamin Hine (Westhill)
Todd Blacklaw (Rubislaw)
Under 8 Girls
Varada Kamte (Cults)
Abigail Doran (Stonehaven)
Rosie Sterk (Stonehaven)
Caitlin Fraser (Tarland)
Under 9 Boys
Greg Smith (Alford/Westhill)
Ewan Smith (Alford/Westhill)
Cameron Jappy (Westhill)
Angus Edward (Cults)
Jamie Connel (Rubislaw/DL's)
Hauoorn Arsher (David L's)
Angus Harold (Grant on Spey moray)
Harrsha Pradeep Kumar (David L's)
U9 Girls
Jodie Harris (Stonehaven)
Rosie Sterk (Stonehaven)
Varda Kamate (Cults)
Caitlin Fraser (Tarland)
For further information contact  – Dave Macdermid – dave.macdermid@bigpartnership.co.uk