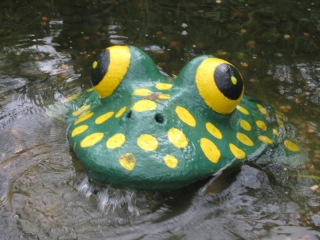 With thanks to
Dave Macdermid.
Hard on the heels of the return of Spike the Talking Cactus, another of the Duthie Park's David Welch Winter Gardens favourite characters has been rejuvenated back to his former glory.
Friends of Duthie Park Chairman Tony Dawson explains:
"Since Spike made his welcome return, we have had so many people enquiring why 'McPuddock The Mechanical Frog' wasn't working as well as he should and wasn't gurgling. And I have to say it was mostly adults doing the asking!
"Sadly he had been below par for some years but, thanks to our wonderful friends at Richard Irvin, he's now back and as good as new, freshly repainted and emerging from the pond with accompanying gurgles on a regular basis!
"For a certain generation, Spike and McPuddock are characters they grew up with and I'm absolutely thrilled they are now both back to their best, particularly at this time, with the major restoration project well underway."
The David Welch Winter Gardens are open between 9.30 a.m. and 4.30 p.m., with closing time extended until 5.30 p.m. from Sunday onwards.