The inaugural Friends of Duthie Park open day was eagerly anticipated by the Aberdeen public.  Of particular interest was the return of 'Spike' the talking cactus'. After an absence of 10 years, the return of Aberdeen's legendary talking cactus was a 'must see' for Voice's Fred Wilkinson.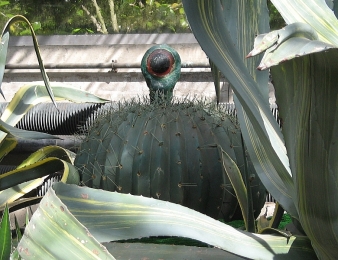 The purpose of the day was to showcase Duthie Park and highlight the major restoration work  to be undertaken shortly within the park and to that end, they certainly achieved their objective with a substantial number of new 'Friends' recruited.
Over 2000 visited throughout the afternoon in spite of the heavy shower that interrupted proceedings just before 2 pm![1]
Duthie Park Friend David Macdermid told Aberdeen Voice:
"While the queues to speak to Spike the Cactus began long before things  got underway, other attractions were also extremely popular including the horse  and cart rides, the Grampian Fire & Rescue appliance and, of course, the  fun rides for the youngsters."
I must admit I was nervous at the prospect of interviewing a  cactus, particularly such a celebrated succulent. I had not anticipated his initial prickly responses however – particularly to my request for a short  interview.
"It better be quick" he responded,  " Ah'm affa busy ye ken"
I assure Spike I am similarly "affa busy" and therefore the interview will surely be a quick one… I certainly do not want to get off on the wrong foot, so having queued up behind several adoring children to grab this opportunity, I hurry forth my next question:
"How does it feel to be back in the public eye?"
"Are you haein a go at me  for haein jist the one eye?" ( cue suppressed laughter from a nearby woman  and child )
Oh dear, I am not doing well at all. OK, Rephrase:
"How does it feel to be back in the limelight?"
"The limelight? Aye, It's fine tae be back"
"Good to see you back Spike, and you seem very relaxed"
"Well, Ah'm at hame, if ye canna relax at  hame far can ye relax?"
Good point Spike, but the question needs to be asked:
"What have you been up to the past 10 years?"
"Ah've been awa on ma holidays. Ah've been daein a' kinds o' things"
Including raising funds for Comic Relief it would seem. Good show Spike, but:
"Have you been to any exciting places?" I asked.
"Aye, Ah've been a' ower the place. Ah wis awa tae Australia"
At this point I am impressed that for all his lengthy period of absence and all his travels, Spike's homely, broad Doric accent has survived 100% intact and unaffected. I am also aware that he seems to have become a little less suspicious of my motives so I move on to what might be an awkward subject.
"I understand you have had some lifesaving surgery recently Spike"
"Fa, you hiv?"
"No, not me, yourself.  I hear you've been very ill"
"Aye, but Ah'm fine now …. thanks tae the folk at Richard Irvin"[2]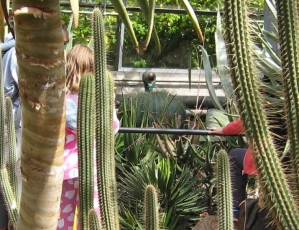 I could sense that Spike was reluctant to expand, and that perhaps the experience was a little painful to recount – particularly on such a day of fun and celebration so I decide not pursue the issue.
After all, I am on a roll, and some young, and not so young children are now coveting my position of privilege directly in front of the revered celebrity.
There remained time only for the question which readers would not have forgiven me for not asking:
"Are you going to be around for a while Spike?"
"Ah hope so" he replies …. somewhat unsure " They've nae telt me yet like"
"So, your contract is in the post?"
"No, Ah've got the contract….  Ah've jist nae signed it yet" ( laughter )
"Good for you Spike, you make sure you get a good deal"
"Are you gan tae come and see me like?"
I surely will Spike. Great to see you back in action. A generation has missed you and a further generation don't know what they have missed.
The Friends of Duthie Park would like to thank everyone who played their part in making the day a great success and, in light of how well it went, the possibility of further events will be considered by the committee.[1]
Joining the 'Friends' is free and application forms are available on www.friendsofduthiepark.co.uk.
Notes.
[1]-  Thanks to Dave Macdermid for the supplementary information and input.
[2] – Spike has been in a condition of considerable disrepair for many years and was, thankfully, restored by staff at Richard Irvin Services Group in time for the 'Friends' Open Day.
Thanks also to 'Aberdeen' community page on Facebook  for images. 
Disclaimer.
Unfortunately, the voice recorder on my mobile phone proved to be a rather unreliable facility. Therefore the above interview was, for the most part, written from memory. Thanks for the memory Spike.