Voice's Fred Wilkinson caught up with new Aberdeen Football Club supporters group Red Army 12 as they set about creating a banner for the club's new captain and instant hero.
It has been a flying start to the new season for Aberdeen F.C.
Despite some worrying pre-season results, the Dons find themselves at the top of the Scottish Premier League with maximum points and celebrating a decisive cup victory over Alloa Athletic. So where did it all go right?
Many Dons fans attribute much of their change of fortune to new signing, new captain and new hero: Paul Hartley – and one group in particular are honouring his contribution by applying his image to a large new banner which will go on display at this Saturday's match with Kilmarnock.
Aberdeen Voice caught up with members of the newly formed Red Army 12 upstairs in the Holburn Bar as they gathered the materials and prepared to muck in with the painting.
One of the group, Mark Elrick, appeared enthused by his role, armed with a laptop and a projector, casting a familiar image onto the blank 8ft square sheet. However, he managed to step away from the apparatus and, with infinitely greater enthusiasm, explain what he felt new captain Hartley brought to the club.
Nothing short of a total transformation it would appear by Mark's account!
"He has just brought everyone together", Mark began. "He had the whole team applaud the Dons fans before the game started, and had the whole team celebrate the goal"
As Mark rattled through the accolades, it was clear that he believes that a new culture has swept through the club and that the new found spirit, motivation and unity – qualities conspicuous by their absence for some considerable time – was symptomatic of Hartley's arrival at Pittodrie.
"He has just brought everyone together. He had the whole team applaud the Dons fans before the game started, and had the whole team celebrate the goal"
However the projected image of Hartley, morphed with the iconic image of Che Guevara and captioned 'EL CAPITANO', will be one of two new banners making their Pittodrie debut this Saturday. The face of manager Mark McGhee is, as I write, in the process of being recreated many times it's natural size – a gesture indicating that faith in the Aberdeen legend has been restored by way of recent results and performances.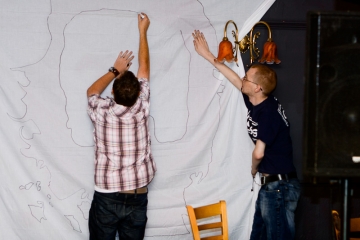 Stephen McCormick, founder of the Red Ultras, renowned for their impressive displays on the Pittodrie terraces sees the role of
Red Army 12
as that of co-ordination between sections of the Dons' support, and to play a part in improving relations and harmony between the fans and the club.
He was proud to announce that former Dons legend Brian Irvine has agreed to become the group's honorary president.
"Red Army 12 is a new supporters group. We want to bring the atmosphere back to the stadium and unite the support. We want to get the stadium rocking again"
Following the demise of the Red Ultras, countless fans approached Stephen lamenting the loss of the organised displays of colour and pride they brought to the home terraces and beyond, and urged him to 'dae summin'. ….and so Red Army 12 came into being on the first day of a thus far promising season with its main aim to improve the matchday experience with singing sections, displays and to create a platform for any Dons fans worldwide to raise any issues they may have as an Aberdeen supporter.
The new banners will seen in Section X of the South Stand – now a dedicated section for displays and fans who wish to be "more vocal"
Of the 'Che Hartley – El Capitano' banner Stephen added:
"we used to have the same image on t-shirts and banners, but with Willie Miller's face".
One would certainly have to search high and low and long to find such an enormous gesture of respect and praise for a player after three competitive games for a new club!
Red Army 12 is looking for new members, and judging by the friendly, enthusiastic and positive attitude of those we met tonight, Aberdeen Voice has no doubt they will be successful in adding to their numbers.
Reminiscent of the Red Ultras' reputation of adding colour to the terraces, each new member receives a Red Army 12 scarf. Signs are there will be plenty more reasons to hold them aloft.
To contact/join Red Army 12 click here.