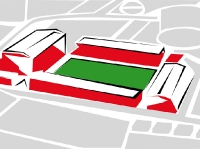 By Dave Innes.
Doom, gloom, despondency and rumours of four dodgy-looking jockeys riding over the Broad Hill are prevalent among some Dons fans on websites and in the city's bijou cafes since the nail-biting end to last season. The weekend's 3-1 defeat by Fraserburgh did nothing but add to the inevitable white noise of supporter anguish.
We've lost players, since money-wise, Scottish fitba is on the bones of its arse, although those who made the hard-working and ever-willing Mark Kerr's life a misery as 2009-10 dragged to a close are among those whining that he's one of the departed. Strange, but not unexpected. Lionel Messi hasn't been pictured holding aloft a Dons scarf following his signing, and the name "Forlan", to my knowledge, is not on the Copthorne list of residents pre-booked pending his Aberdeen trial.
There are plenty trialists at Pittodrie of course, some not even household names in their own houses and who, no doubt, will be weeded out and returned to their agents with a "rejected by QC" label attached. Josh Magennis, who seemingly cannot decide if he's a goalkeeper or a striker has arrived as a striker (or goalkeeper?) and Mark Howard – definitely a keeper, I think – has signed. Rory McArdle's in as a defender and as a Northern Ireland international, he'll have some ability and a point to prove.
Mark McGhee's been clear that there are positions for which he needs cover and that signing targets have been identified with these specific squad slots in mind. Quite what level of quality of player he expects to sign given the eye-wateringly tight player budget he has been given remains unclear, but Puyol isn't going to be signing for the wages the Dons seem able to afford.
The more relaxed fans are content that players of reasonable ability will be here by the time Hamilton Accies visit on 14 August and that 2010-11 will be an improvement on last season's hellish amalgam of Whitehall farce, Boccacian tragedy and schoolboy error. This is almost acceptable to reasonable fans.
What is unforgivable though, is the defeatism throughout the club. In our heart of hearts, we fans suspect that we won't be winning the SPL in the near future, but is there any need for directors and managers to articulate a loser mentality? "We can finish third" is not the sort of talk I want to hear. In any game, it starts 0-0, last week's result is history, both teams have eleven players and the rules will usually be fairly applied, so why the pessimism?
Expecting hard-up punters to part with the fat end of £300 for season tickets when the club's custodians display Eeyore-like tendencies is not good marketing. Neither is over-optimism, but I'm sure you'd be reluctant to walk to the corner shop and hand over your weekly quid if the Lottery ads proclaimed, "Hey, you might win a tenner!".
There's a shop in King Street which sells grips. Go get one.