Three games into the SPL season, and Aberdeen are still to score. We're not quite at the Andy Dow stage yet – the man who famously scored the Dons' first goal of the 1999/2000 season in late September, during their seventh consecutive defeat – but it's certainly starting to feel like it. Philip Sim reports from Pittodrie.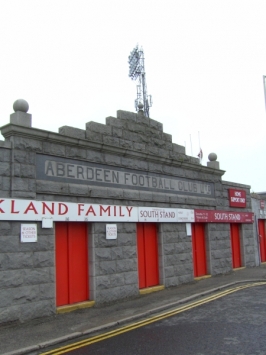 Despite the continuing abject lack of joy up front, this was actually quite a spirited performance from the men in red. It was a vast improvement not only on last week's capitulation in Paisley, but also on every encounter with Celtic last season.
We have been assured repeatedly through the close season that Craig Brown was building a team which wouldn't fall apart when faced by Celtic, who averaged more than five goals a game against the Dons last term. The cumulative score across the season was 21-1.
This should not be the case this year; while Aberdeen may have lost this match, at the very least they went down fighting.
One feature of last season which did crop up was one of Mark McGhee's constant post-match refrains, of individual errors costing games. Had Ricky Foster not been caught in possession by Kris Commons – the very man Aberdeen captain had succeeded in subduing for the previous 73 minutes – the game seemed destined for a goalless stalemate. The Dons had looked resolute, sitting extremely deep but refusing to be broken down.
Right up to the goal you could almost physically see the confidence of the Aberdeen players grow, as they began to break out of their own half and start to compete at the other end, but they were seriously deflated by the goal.
The Dons had been chasing the game so, so hard. Osbourne and Milsom ran their hearts out in the centre of the park, always chasing and harrying, never giving their opponents a quiet moment. Arnason and Considine both looked solid and assured at centre half, and indeed while the stats will show a large number of Celtic attempts on goal, the majority of them were hopeful efforts from distance which rarely troubled Gonzalez.
Once the goal had gone in and the legs had begun to tire, another familiar problem kicked in for the home side. Squad depth.
Once again the bench was staffed entirely with inexperienced youngsters, offering little chance for Brown to change the game with a substitution. Meanwhile, almost a full bench of first-teamers was sat at the back of the main stand in Langfield, Clark, Folly, Fyvie, Jack and Mawene, and while their return can't come quick enough, Craig Brown still needs to sign a creative attacker. Someone who can change games.
Peter Pawlett had his moments once again and is undoubtedly a huge talent
While industry was no problem for the Dons attack, with Mackie, Magennis and Pawlett running themselves into the ground, it still seems to lack a cutting edge. Scott Vernon proved himself to be a good finisher last season, but all too often here he was left in a fruitless aerial battle against Celtic's mastodonic captain for the day, Majstorovic.
Whenever he tried to bring the ball down and hold it up, he found himself besieged by hooped jerseys, and ultimately Aberdeen had no release point.
Vernon is at his best when he's playing facing the opposition goal, alongside an energetic, creative player who can make chances for both of them. He needs service, but it's hard to see where that is going to come from in the current Aberdeen team. Peter Pawlett had his moments once again and is undoubtedly a huge talent, but the entire burden cannot be laid at his door – the youngster spent most of last season sidelined with injury, and can't be expected to carry the team just yet.
Craig Brown's most likely avenue of recruitment is to snap up loan players who don't make the cut for English Premiership squads, but those squads won't be decided until the end of the month. Can Aberdeen afford to write off the rest of the month without a real goal-scoring threat, trusting that the rest of the pack won't build up an insurmountable a points tally?
The last word on the latest in what is becoming a long line of defeats actually against Celtic roughly mirrors the outlook from the opening match against St Johnstone – quite a solid, spirited performance, but disappointed not to have taken more from the game. Once again, against the context of last season's horrors, it's a recipe for cautious optimism.