This match really underlined how the sport of football can toy with the emotions of its followers. At half time Dunfermline would have bitten off hands for a point, but in the end it was Aberdeen who felt relieved to snatch a share – and yet, both teams will feel as if they could or should have won the game. Philip Sim reports.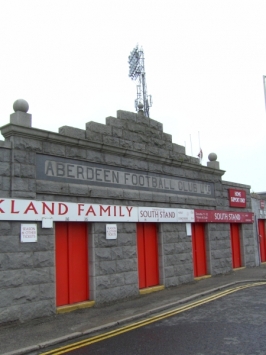 The Dons undoubtedly controlled more of the match and created a greater quantity and quality of chances, but it was the home side who somehow found themselves 3-1 ahead – and indeed, it could have been 4-1 if not for a terrific save from visiting keeper David Gonzalez.
Ten minutes of madness at the back soured what had been developing into a decent Aberdeen performance.
It's little consolation that the Dons have now quadrupled their away goals tally for the season, as they remain rooted second-bottom of the SPL.
Aberdeen's back line will come in for some deserved criticism after an all-too familiar second-half collapse, but special mention once again has to go to Andrew Considine, arguably his team's most effective performer this season. The centre half has looked solid in defence and has popped up with vital goals several times already this term, and it was hardly a surprise that he broke the deadlock.
The fact a defender can be so lauded in a team which is shipping so many goals speaks to the nature of this match – while undoubtedly an entertaining affair, it was as laden with negatives as positives. While Aberdeen found themselves trailing 3-1 to a team who haven't won a home match all season, they then showed great character and resolve to come back and tie the match, and came within inches of a winner in the final seconds.
Craig Brown will again point to his side's statistical superiority, and while it's true that the Dons largely bossed the first half, made plenty of chances and won endless corners, all too often they showed profligacy in front of goal. Josh Magennis was the main offender, missing four good chances including an open goal before he finally netted the late equaliser.
A cutting edge up front has been Aberdeen's key failing this season, and a quick glance at the SPL's top scorers confirms this – Scott Vernon just makes it the top 15, while Inverness, the only team separating the Dons from bottom of the league, have both Andrew Shinnie and Gregory Tade.
Beyond the striking issues and occasional defensive standstill, the result points out how fragile Aberdeen are, looking distinctly makeshift after losing just a few players to injury. Kari Arnason would be badly missed from any midfield in the country, but really it was Scott Vernon's absence that hurt the Dons here.
With Rory Fallon withdrawn presumably due to injury after an anonymous first half and Mo Chalali off on international duty – still the only situation where he has actually scored a goal – the absence of Vernon leaves Aberdeen with a front duo of Magennis and Darren Mackie. This is not a pairing which will strike fear into the hearts of many SPL defenders, especially given the scant service they tend to receive – Richard Foster remains the team's only source of width, given the uninspiring form of eternal substitute Peter Pawlett.
Brown and indeed many of the supporters might be looking forward to the January transfer window and a strengthening of the squad, but there are six more games to be negotiated before then.
Depending on whether your glass is half full or half empty (discounting the rather vocal minority of fans who broke their glass and went home in a huff at 3-1) these six are all winnable games in a league as evenly balanced as the SPL outside of the Old Firm. On the empty-glass relegation-dogfight hand, maybe a point away from home against a fellow struggler is a decent result – but this was the type of game that Aberdeen really need to look to win if they are going to build a move up the table.