A £15m debt? Plans to move to new premises that have not convinced the customers and neighbours? Under-performing product? Surely such an organisation's AGM would see calls for change at the top, summary dismissals, a new financial model? Normally yes, but this is football where normal capitalist business practice is forgotten. David Innes reports from the Dons AGM held on Monday 19 December.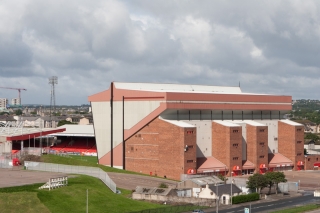 This was, Chairman Stewart Milne declared, the 108th AGM of Aberdeen Football Club. It is the sixteenth of these since the first major share issue of 1996, but whereas the 1996 meeting had to be held in the Capitol to accommodate the hundreds who attended, the 108th meeting quorum was comfortably contained in just one half of Pittodrie's Europa Lounge.
The systemic stuff, in the form of seven resolutions, was over in a trice. The three directors – Messrs Fraser, Little and Matheson – retiring by rotation were re-elected without opposition, the appointment of two new directors in Colin Welsh and Ian Jack were ratified and the boring accounts drollery was nodded through.
So, to the main course and questions from the floor.
As expected, directors were asked for information on views on debt, Loirston, public relations, the team's under-achievement, the onfield disciplinary record and the possibility of introducing standing sections in the new build.
There is still an admitted funding gap in the budget for relocation, but we were assured that the bank-demanded milestones relating to this were achievable and that initial construction work was expected to start, on target, in April 2012. The funding needed for the new ground will not affect the football budget which Craig Brown publicly admitted was the fourth best in the SPL and certainly less than his budget when he was Motherwell manager.
On the £2.5m loan extended to the club by the companies run by Milne and fellow director Hugh Little, the latter was blunt in his assessment. This loan, he said, helped Aberdeen retain its football budget at planned levels whilst income had not reached targets, in a time when rivals in Dundee, Edinburgh and elsewhere are cutting theirs.
He mentioned administration as a consequence of living beyond a club's means. One imagines he had in mind Motherwell's administration which now sees them in a European place in the SPL, having paid only a percentage of its creditors' bills post-administration, with morally-suspect consequences for local suppliers. Or perhaps he was thinking of Hearts, where currently payment of staff wages seems to be a monthly option rather than a contractual obligation.
negative press and broadcast publicity from certain media outlets and individuals was difficult to counter
The manager told shareholders that if there were complaints about performance and league position, they should be addressed to him, as the board had accepted his every request for stretching the bounds of his budget, including the recruitment of full backs a year ago and the signings of Chalali, Fallon and Gonzalez.
The responsibility, quite clearly, was his.
On disciplinary issues, nobody disputed his analysis of the sendings off to date in 2011-12. He admitted that his orders to players not to appeal decisions may have cost them dearly and that referees may well "mistake kindness for softness". Willie Miller conceded that football has radically changed in terms of tackling since he was the nemesis of strikers and that referees were now almost unable to leave unpenalised a "hard but fair tackle". The big girlies.
The directors and manager agreed too that negative press and broadcast publicity from certain media outlets and individuals was difficult to counter but that the only alternative is to improve the playing record.
That sums it up. Whether or not they are shareholders, fans are only interested in the so-called "football operation", business-speak for "fitba". Home games can be held in surroundings replicating the Nou Camp or the old Linksfield, but we don't care as long as the Reds are fighting like young tigers for the cause we share. We could have the best or worst corporate facilities in the whole of Scotland and it matters not a whit if we're scoring one more than our opponents.
That was best illustrated by the largely-unexpected easy ride given to those in charge. We've just beaten St Johnstone and Hibs and have the good old collective sense of injustice on our side again, following some rather rum refereeing decisions.
Football fans don't ask for much more, but one wonders if next year the club's custodians will get it so easy if results remain the same and stadium development and other "non-football operation" activity takes over as priority.