Foiled by Jock Frost, David Innes got his weekly fitba fix last weekend at Pittodrie. Paying more than three times the cost for about a tenth of the entertainment he relishes in the proper mannies' fitba Highland League environment is an indicator of why attendances might be falling. He's thawed out, and here are his thoughts.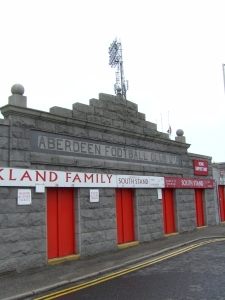 We Dons fans have learned to be canny, although air-headed, cliché-addicted professional sports commentators still accuse us of living in the 1980s. Only my fashion sense, Chick.
So, when the pre-match talk centred on the potential for the Reds to achieve top 6 SPL status, we backed off. We've been down in the gutter this season already, and believe me, we were looking at few stars.
We know better than to hope.
And it's a good job that we've gone from Real Madrid to realism. We created fewer chances in 90 minutes of honest, earnest endeavour than in almost any match I've seen at Pittodrie in my 46 years of attendance.
Our squad is solid. Even the loss of Richard Foster has had little obvious effect as Clark Robertson, surely a future star, calmly did the left back stuff and on-loan Mark Reynolds looks skilful on the ball, able in the centre of defence and comfortable wearing The Sacred Red. Apart from a late slip which Jason Brown rescued, Andy Considine is an effective centre half. He must surely get his ability from his ma.
Upfront, Mohamed Chalali opened brightly but faded after sustaining an injury. Scott Vernon, though, is suffering from not getting the service he needs from midfield and often finds himself dropping back to pick up balls which he would prefer to see served to him in the box. That's where he's at his best. He's the most effective and consistent penalty area centre forward we've had since Arild Stavrum's departure for Istanbul left linesmen with curiously well-developed flag arms.
Our problem is between defence and attack, in the bit where we should be making chances for the strikers. So Milsom who gives us some width on the left was missing but there seem to be few alternatives when he's missing. Neither Ryan Jack, who proved his youthful fallibility by having a poor game by his own standards, nor Chris Clark who was, well, he was Chris Clark, were able to make much of things on the wings. I've seen more width on a Mod's lapels.
As it turned out, Rory McArdle, a solid centre half was played at right back. He didn't do much wrong, but hearty and committed though he is, a right winger he isn't. For his endeavour and his determination to keep overlapping when it patently isn't his strength yet always being back in position to repel the few Kilmarnock attacks of any note, he was my man of the match.
We have twelve days to try to add a creative edge to our satisfying solidity before the transfer window closes – or "slams shut" as cliché demands. We seem to have sorted out the issues which saw us go on that scary losing streak in October and November, but it's still not pretty to watch and victories will be scrambled and nervous single goal affairs rather than comfortable, carefree, toorie-at-a-jaunty-angle net-bulging festivals.
Without the creativity of wide players or a wily tricky schemer to take on a couple of defenders and deliver a decent standard of final ball to the strikers, we'll struggle to make the split in the top 6 and falter in the Cup after we complete unfinished business against Queen of the South.
Over to you Broon and Knoxy mins.