An Aberdeen defeat at Parkhead is hardly unpredictable – it's seemed like the Dons couldn't buy a win against Celtic in recent years, not that they'd have to finance to do so – but at least the team are down to battling, one-goal margins now rather than the capitulations of last season. Philip Sim reports.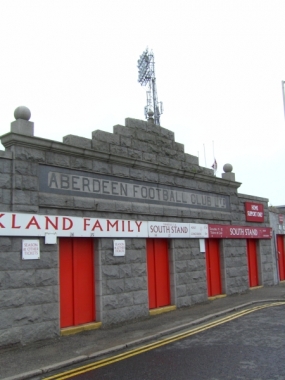 The Dons scored their first away goal of the season in this match, another little milestone in the crawl towards progress for
Craig Brown's
side, who look to have a bit of confidence and fight about them after back to back home wins against Dunfermline and Dundee United.
Two things always seem certain when the men in red play against the hoops though – one of them will be sent off, usually controversially, and
Charlie Mulgrew
will score or create a goal to haunt his old club. The former Dons full-back often looks shaky during open play, but his set-pieces and surprising ability in the air have been invaluable to Celtic this term, which is perhaps why he was handed the captain's armband for this match.
Wonderkid Ryan Jack went from hero to villain for the Dons, scoring an excellent solo goal to level the match before being sent off for a second yellow card.
Jack has really come into his own this season and for the most part his performance at Parkhead reflected this, but his dismissal ended the game as a contest.
Prior to that chances had really been at a premium, with both sides working hard to restrict opportunities for their opponents. Celtic had the lion's share of the play, but Aberdeen were always in the game, fighting hard for every 50-50 ball and showing total commitment across the defence and midfield.
Jack's first booking was a farce – a goal celebration of any kind is now apparently a foul, or was it merely for having the temerity to score against Celtic? However, he showed his inexperience when lunging into the tackle which earned him his second. He will now be suspended for the next match, the visit of the other Old Firm cheek, which presents Craig Brown with a defensive dilemma.
One option is to make a straight swap and drop Chris Clark in at full-back. This would be the continuity option and possibly the best one, given how well the rest of the team are playing in their respective positions, but Clark's form has been very poor since his return to the Dons, especially defensively.
Another straight-swap option would be Rory McArdle, but full-back is far from his preferred position.
Brown has shown an admirable resolve to stick with the starting 11 and formation which has been performing well of late, but he is a tinkerer at heart and he may be tempted to move things around a bit.
Kari Arnason has been deployed at centre-half in several big games this season. Might Brown be tempted to move him into defence, shifting Andy Considine to left-back and Foster to right-back?
Arnason has formed a formidable partnership with Isaac Osbourne in the middle of the park and many Dons fans will be eager to see the havoc they could wreack on a Rangers midfield this weekend. Arnason's composure and reliability are a bonus wherever he is deployed, but these charactistics work best alongside the wrecking-ball style of Osbourne in the middle of the park. One thing is for sure, and that's that the Aberdeen board need to find some cash to sign these two up to longer-term deals as soon as possible.
Similar to the midfield duo, the defensive partnership of Considine and Youl Mawene is also probably working too well to be broken up. The experience and toughness of Mawene seems to give Considine real confidence, with the big defender already having his best season in the team, and the two complement each other nicely.
Players like Mawene, Arnason and Osbourne – and indeed Rory Fallon and David Gonzalez – weren't in the side for any of last season's humblings against the Old Firm, which can only be a good thing. They approach these games full of confidence rather than trepadition, expecting to win, and with these five really representing the spine of the team this really boosts the morale and belief of their team-mates.
During the latter years of the Jimmy Calderwood era Aberdeeen had an excellent home record against Rangers, winning almost every game, and the way the Dons are playing right now, there's every chance that can be re-established again this weekend.