With thanks to Suzanne Kelly.
A new cloud covers the controversial Union Terrace Gardens Referendum today, as a care home worker came forward with concerns about postal votes sent to a residential home.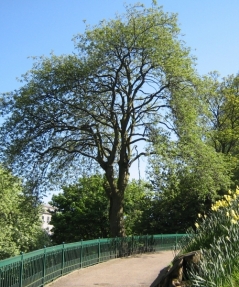 The worker, who wishes to remain anonymous, approached Aberdeen Voice to say that over a dozen postal vote envelopes arrived at one residential home – but when the worker went to retrieve them a short time later – they were not where they had been left. No one at the residence seemed to know precisely what became of them.   The concern is whether or not the residents' votes were properly distributed and managed.  The matter is still being looked into, and no allegation of wrong-doing has been made at this stage.
Aberdeen Voice's Suzanne Kelly is researching further, and contacted the elections officer, and the other recognised campaigning organisations on the issue.
Kelly asked the elections officer for the marked Register to be checked with a view to how many care home residents returned votes, and whether there are any unusual voting patterns.  However, the elections officer's position is that "it would be illegal for me to provide this in terms of the Representation of the People(Scotland) Regulations 2001."  In an election relevant parties would normally  be able to view the marked Register.
Crawford Langley, the Elections Officer for the Union Terrace Gardens referendum vote, previously contacted the police over potential postal vote fraud in May 2005 when he was elections officer and a small number (between 6 and 12) of anomalies arose, where people appeared not to have received their postal vote forms.
Langley was quoted at the time as saying:
"We are talking about a very small number but, given the publicity elsewhere and the tight ship we run in elections in Aberdeen, it was sufficiently unusual that I needed to do something about it."
The controversial referendum, which was over the future of Aberdeen's Victorian Union Terrace Gardens, gave residents a choice to either 'retain' the gardens, or to endorse a £140 million pound scheme called the Granite Web. This entails the city obtaining a £70 million pound TIF loan, which will be matched by Sir Ian Wood / The Wood Family Trust (£50 million), £5 million from an anonymous donor, and another £15 from as-yet unnamed private sources. The TIF scheme is still in trial stages in Scotland.
many feel the media bombardment influenced the vote
The referendum was dogged by controversy. Official campaigning groups were entitled to place a 300 word essay into the voting pack, and had to adhere to strict expenditure limits.
The Green Party's statement was not printed in full. Also controversial were the actions of a 'secretive' group (as described by a BiG Partnership employee) known as 'Vote for the City Gardens Project.' This federation of businessmen and women, who prefer to remain anonymous, are thought to have spent tens of thousand of pounds to promote the City Garden Project Granite Web.
Their glossy, A3 full colour brochure went to households in Aberdeenshire which were not eligible to vote as well as to City residents. The group also issued a four-page newspaper format item, and had several full-page spreads in the local press. Local radio stations broadcast pro City Garden Project commercials. None of the officially recognised campaigning groups would have been able to afford such a campaign, and many feel the media bombardment influenced the vote.
The materials produced by the group used projections by PriceWaterhouse Coopers to claim the scheme would create over 6,500 permanent jobs and mean £122 million to the local economy every year until 2023. Those who tried to contest these projections being used as fact found that the Vote for the City Gardens Project group was not accountable either to the elections officer or the Advertising Standards Agency. Other points of contention have been brought to the election officer's notice as well.
Willie Young of the Labour Party, who were an official campaigning organisation, had this to say:
"We really do need to see the mark register so we can prove to ourselves that the referendum was run correctly. In a democracy we need checks and balances and the Electoral Commission is clear that those involved in an election should be given access to the mark register. I am not suggesting anything is untoward, but it is our right to make sure that it isn't. We are baffled by the stance taken by the counting officer".
Suzanne Kelly commented:
"It is abundantly clear to me why my source wishes to stay anonymous. They are keen to continue in the job they love, and are all too aware of what can happen to a whistle-blower. This issue is still being investigated, but I thought bringing it to the election officer's attention immediately was the right thing to do.  This is why we need to check the votes sent to all of our residential care homes – we must ensure no one has been exploited and no votes have gone astray. Were all the votes sent to the homes used, and if not, what percentage went unused? Did the vote split at the residential homes echo the nearly 50–50 split the total vote saw? If not, then further research will be needed.
There is at present no allegation of any wrong doing by any individual – but it is clear that we need to have the transparency we were always promised concerning Union Terrace Gardens, but which we so sadly lacked. We've seen redacted minutes – minutes where lines of text have been 'blacked out' to keep the public in the dark. Why should there be any secrecy over what is common good land?"
Kelly was chair of one of the recognised campaigning organisations ('Democracy Watch') and has been liaising with other campaigners; a number of issues remain over the referendum, and these will be reviewed soon.