Aberdeen is renowned as the Granite City and for it's oil industry. However, there is soon to be a new connection to the city and that is fashion promotion business – S.T.A.G Studio.  Emma Noble and Toni Roddie share their plans with Aberdeen Voice.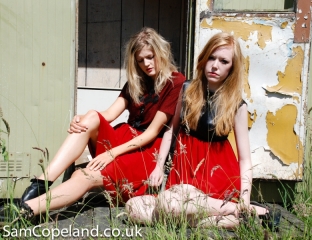 Established by two fourth year fashion design students at Gray's School of Art, Emma Noble and Toni Roddie have set up S.T.A.G Studio.
The company name stands for Scottish Talent and Graduates. It is a unique group dedicated to help promote Scottish fashion whether they are  newbies to the industry, newly graduated or established designers.
S.T.A.G Studio aims to feed fashion within Aberdeen and help promote the Scottish fashion industry as a whole. They offer designers the opportunity to connect and network with like-minded folk within the city and to help build collaborations through fashion shows, photo shoots and unique fashion events.S.T.A.G Studio is holding Aberdeen's first and only unique pop-up fashion and styling event in the great granite city on Saturday 20th August at Korova Klub from 1pm-6pm. S.T.A.G. Studio is aiming to promote independent fashion design throughout Aberdeen and connect the fabulous design talent that they have to offer here in the city and throughout the shire. One half of the fashion duo, Emma Noble commented:-
"We feel there is a real lack of support in terms of Scottish fashion, with so much talent thriving amongst the city and shire we feel the best way to show off a slice of the creative flair is to showcase it at our very first pop up shop- giving you the opportunity to buy selective one off pieces directly from the designers"
 With free hair styling from Profile Hair of Aberdeen along with Harlequin Make Up Artistry and The Closet Vintage it is sure to be a packed afternoon not to be missed. Toni Roddi also commented:-
"The Pop Up Shop will create a great shopping environment which is new and fresh to the city! It will bring everything you need under one roof – fashion designers, textiles designers, vintage shops, models, photographers, make-up artists, hairdressers, stylists and much more!"
S.T.A.G Studio Pop Up Shop will be held at the Korova Klub on Bridge Street, Aberdeen on Saturday 20th August from 1pm – 6pm. Tickets cost £2, available from Korova or £3 on the door.