Aberdeen's most fashionable event is coming back to make a reappearance in the great, Granite City. With thanks to Emma Noble.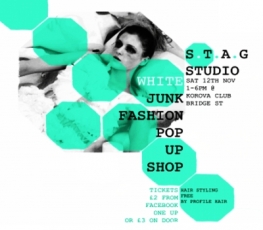 S.T.A.G Studio is holding Aberdeen's return of the Pop-Up fashion and styling event on Saturday 12th November at Korova Klub from 1pm-6pm.
The aim is to promote independent fashion designers throughout Aberdeen and connect the fabulous design talent on offer here in the city and throughout the shire.
Two fourth year fashion design students at Gray's School of Art, Emma Noble and Toni Roddie, have set up and established S.T.A.G Studio. The company name stands for Scottish Talent and Graduates. It is a unique group dedicated to helping promote the people in Scottish fashion, whether newbies to the industry or newly graduated or established designers.
S.T.A.G Studio aims to feed the fashion industry within Aberdeen and help promote the Scottish fashion industry as a whole. They offer designers the opportunity to connect and network with like-minded folk within the city and to help build collaborations through fashion shows, photo shoots and unique fashion events.
At the Pop Up Shop the S.T.A.G. duo want to showcase new and up-and-coming fashion designers from the local community, along with vintage boutiques and jewellery designers. Delicious cupcakes are on offer from Hannah Bakes Cakes; giftware from Alison Bell; and nail and body artistry is available as part of the fashion exhibition. Plus you may even be style hunted by the in-house fashion photographer, then featured on the blog!
Once you have browsed and bought, you can sit back and have a tipple or two and perhaps even try the S.T.A.G. Cocktail, as the DJ fills the venue with music. You can even get your hair styled for free by Profile Hair of Aberdeen.
S.T.A.G Studio Pop Up Shop will be held at the Korova Klub on Bridge Street, Aberdeen on Saturday 12th November 2011, from 1pm – 6pm. Tickets cost £2, available from ONE UP, or £3 on the door.