By Duncan Harley.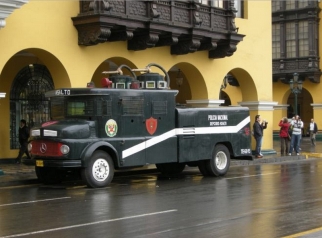 A major world city was in lock down this week and rush hour was cancelled. For possibly the first time in over 15 years, the city and its surrounding countryside was filled with security barriers and checkpoints.
Snipers on the rooftops, razor wire around public buildings and surveillance drones flying overhead all added to the air of unreality.
Thousands of police and troops lined the streets and the government brought in a 30 ton water cannon along with an extra sixteen judges equipped with special emergency powers in order to process anyone deemed a threat to law and order.
The local river was closed to the public, with police speed boats and frogmen on hand to deal with any waterborne threats and a local 5 star hotel was surrounded by nearly 5 miles of razor wire.
In a seemingly unprecedented move, the central government deployed undercover teams of armed Ghurkha soldiers in the belief that the fierce dark skinned, kukri wielding Nepalese warriors would blend in well with the local population.
This was not Kabul, Basra or even Damascus. This was Belfast, capital and largest city of Northern Ireland.
A city boasting a population of over 280,000 largely peaceful inhabitants and the fourteenth largest city in the United Kingdom. Birthplace of the Titanic, world snooker champion Alex "Hurricane" Higgins, Bobby Sands and CS Lewis amongst many others.
The Obama Show and G8 had come to town. In a rousing speech to over two thousand people, mostly young students, at Belfast's Waterfront Hall Obama told the people of Northern Ireland:-
"For those who choose the path of peace, the United States of America will be with you every step of the way."
The G8 summit meeting (G8 being of course an elite club comprising France, Germany, Italy, Japan, the United Kingdom, Canada, Russia and the United States) was seemingly held in Northern Ireland because
David Cameron hoped that it would send a clear message to the rest of the world that the peace process has worked and normality has returned to the streets of Belfast.
the summit went well with seemingly only a handful of protesters taking to the barricades
Many commentators however pointed to the security measures which accompanied the summit as being a sign that all is not well in G8 land. Some folk even wondered if the barriers and razor wire were to keep the protestors out or the keep the G8 leaders in.
All in all though, the summit went well with seemingly only a handful of protesters taking to the barricades. Indeed some reports put the protester numbers at less than 200 overall. There had been a larger turnout the week before however with around 2000 protesters.
By contrast when G8 came to Scotland's Gleneagles Hotel in 2005 over 200,000 folk demonstrated in Edinburgh and the in 2001 Genoa G8 resulted in more than 300 people being injured in riots with a 23-year-old protester being shot dead by police.
The late Michael Marra wrote a quite poignant song about the US General Grant's 1877 visit to Dundee. "General Grant's visit to Dundee" it is called. The General called past Marra's home city at the end of a two year world tour which had included visits to most European capitals plus those of the Middle East and Burma, Singapore, and Vietnam.
Seemingly however the only thing anyone could remember that the American General and his entourage had said during his visit was "What a mighty long bridge for such a little old town" with his wife commenting "what well trained little orphans."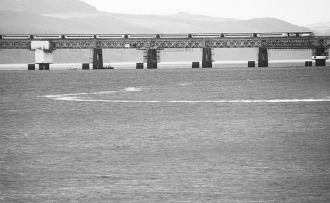 For reasons best known to himself the good general chose not to visit Aberdeen.
What, some wonder will history remember of Obama and his wife's stirring speeches when the time comes to review and recall the events of this week in Belfast?
Perhaps Obama's quote from Yeats "Peace comes dropping slow" will be remembered in a hundred years or so and from Michele:-
"you young people are some of the most important people we meet on these tours."
I couldn't have put it better myself.
Sources
Comments enabled – see comments box below. Note, all comments will be moderated.