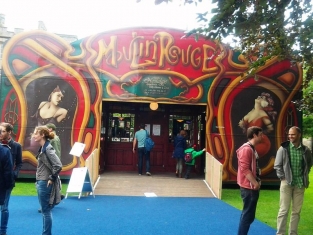 By
Suzanne Kelly.
This year's TechFest is bigger than ever before, and it's not too late to catch a host of lectures, activities and events.  TechFest runs through Sunday 9 September at various venues throughout Aberdeen. Archaeology, Psychology, Geology and even Mixology get a look in this time around.
The Bill Bryson talk may be sold out, but there are still plenty of free events for people of all ages.  These include:-
'Is Access to Water a Human Right' – Friday 15.30pm
'CSI – Fact or Fiction?' – Saturday 10am
'Café Cosmos' – Sunday 10am
'Looking for Leviathans' – Sunday 1pm
'Multi-Track Mixing' – all day Saturday
Festival Finale – Sunday from 7pm
Do check the programme for dozens more events, event locations (some free events may still require booking in advance).  Times may change; check with the organisers.  Or better still, wander up to the Spiegeltent on Aberdeen University Campus, and see what's going on when you get there.  Details and booking:  www.britishsciencefestival.org
There is a festival bar at Elphinstone Hall, and other eating and drinking venues on campus.