As conversations go, our own Suzanne Kelly found her recent discussions with former Robert Gordon University Principal Dr David Kennedy fascinating. As always, conversations lead to discussion of inter-connected events. Here, in a further interview extract, Dr Kennedy talks frankly about how personal and societal standards, values and morality have changed and how individual actions have affected and influenced matters, perhaps unintentionally, on a much larger scale.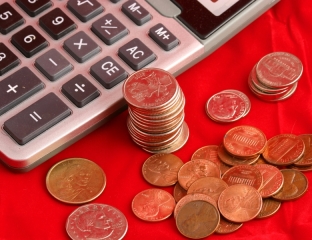 We had been discussing land use and EU farming bureaucracy, and how, for many farmers, European subsidies had made them rich.
See: Aberdeen Voice article
 'Dr David Kennedy On Land Use And Farming'
)
Dr Kennedy is in no doubt that elected politicians have much to answer for, on numerous issues in addition to agricultural policy.
"It's a bizarre state of affairs. These are supposed to be highly-intelligent people elected to represent us. The sad truth is, as one old friend used to say, 'they are just filling their own pooches'. And that's absolutely true. Some investigative journalist did the work on MPs' expenses and when her work was made public, we saw the full extent of their greed. The MPs' expenses scandal was an absolute disgrace, but that is nothing compared to what is happening in Brussels.
"Morality is fast disappearing for some reason or another. There is a lack of integrity and it now seems that it doesn't matter what you do as long as you are making money. Trump boasted on his website of brutality, toughness and greed. Are these behaviours we all really value?
"Why do humans behave in this way? Well, it's a long story involving conditioning the human brain. This began in a scientific way early in the last century, not by Joseph Goebbels as we are encouraged to believe, but by an American named Edward Bernays, nephew of Sigmund Freud, who could, fairly, be called the father of advertising, propaganda, and public relations. He knew how to play on the pleasure and pain centres of the brain. Goebbels was an avid pupil of Bernays.
"Brainwashing didn't begin with the wicked Chinese, or the godless Communists, or even the evil Nazis. It began in America, where it has been perfected over the years, and we are all subjected to it. Trump is simply one example of The Big Lie. Anyone who analyses the mainstream media will readily see how words are used, not to inform, enlighten and clarify, but to mislead, confuse and confound. And it is all done to amass wealth".
"There has been a massive cultural change. I'm 80 or so, and I look at changes such as wealth-creation, sustainability, satisfying our needs and the problem of waste. The thing is, in about the last 30 years the speed of technological change has been bewildering. Sixty years ago an Edinburgh academic, Professor CH Waddington, looking at the future, predicted that, given the rate of change in the accumulation of knowledge, it would eventually be impossible to keep up with all the changes. I think what he said has come to pass."
Pressed for an example, Kennedy continued.
"Take micro-electronics. When I was a young man you learnt about thermionic valves and their use in radios. A few years earlier, radios were powered by accumulators that seemed to weigh a ton. Electrical engineers who were brought up on thermionic valves, then had to learn about transistors, and the technology of valves was forgotten. Transistor radios were very much smaller and easily carried around. Noise pollution increased. A new technology had to be learned, which lasted for about 10 years before being replaced by the silicon chip. Things are getting even smaller."
There are serious issues with the UK's higher education system – tuition fees, devalued degrees, an imbalance in the areas of tertiary learning where we can't all be Media Studies graduates, poor employment prospects and very grim student loan burdens. What, I asked, are Dr Kennedy's views on where these problems came from? Where does he think we are heading, and what can be done about it?
Again, the issues of personal morality and values were raised.
"I think it is fairly easy to see where the problems come from. They arise from economics. Mrs Thatcher radically changed the basis of economic life in Britain famously claiming, 'There is no alternative'.
"This assertion has been accepted by all the major political parties and involved rolling back the state, decrying collective activities while promoting individualism, standing on one's own two feet. Since then, we have seen the rich getting richer and the poor getting poorer. This is another example of Trump's mantra, 'greed is good'.
"So, education is no longer thought of as being for the greater good of society. Health is no longer thought of as a basic necessity, best provided by an all-inclusive system. Caring for the elderly through a comprehensive system of pensions paid for whilst one is healthy and working is now too great a burden.
"Instead, leave it to the individual and let the market decide what should be provided, and for whom. This is completely against the 1940s wisdom of William Beveridge and the subsequent foundation of the welfare state. And, of course, the same attitude prevails when it comes to protecting the environment – nothing must be allowed to stop the onward march of progress".
More from this fascinating conversation will appear in future issues of Voice.
Image Credits:
 Pound Man © Chrisharvey | Dreamstime.com
Calculator and Money © Timothy Nichols | Dreamstime.com