With an armful of flyers promoting various pro 'Retain Union Terrace Gardens' groups, Aberdeen Voice's Suzanne Kelly headed to the first of two 'pizza parties' thrown by the secretive 'Vote For The City Gardens Project' group.   Suzanne was  unable to give away more than four flyers – because less than a half dozen students turned  up to hear the pro CGP message.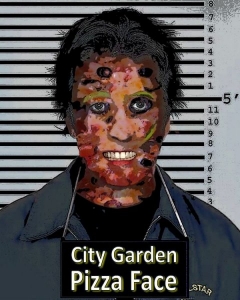 If the promise of free food to students isn't enough to lure more than 5 or 6 people, things are looking bleak for the VFTCGP, and bleaker still for PR agency, BIG Partnership.
VftCGP, on their official Facebook page, announced last week there would be two 'free pizza!' events thrown for students; a free pizza dinner was theirs and all they had to do was show up to hear a pro-City Garden Project lecturer – Paul Robertson.
At first most FB readers assumed this was a spoof thrown by the 'Retain UTG' groups – but no, this was actually someone's idea of a vote-winner.
We all know the proverb about the incompetent who can't even arrange a drinking session in a brewery; but I was unprepared for what must be the biggest non-event in history.
The Facebook invitations simply read:
"Free Pizza And Information Night! Come join us for free pizza and a chat with Paul Robertson about the City Garden Project on Monday 20th February, between 6pm and 7pm at the RGU: Union".
Thinking back to my RGU course days, I thought a.  how insulted I would be at someone blatantly trying to buy my opinion – with pizza no less, and b.  how often I could have found a free meal very handy indeed.  This event would be packed.  The invites were also sent to staff and students.  I thought of a massive collective of outsiders and RGU students and staff competing for quickly-disappearing 'American Hots' and 'Hawaiians' before a slick presentation from BIG.
BIG must be making a huge amount of money from the referendum – it is doing some if not all of the official City Gardens Project group's PR, as well as work for the 'Vote for the City Gardens Project' group.  This last group, VftCGP is allowed to spend and write whatever it wants without any external controls.
They were behind the A3 glossy colour brochure filled with 'concept' drawings in lurid pastel colours (or 'vibrant and dynamic' colours – depending on your outlook); these brochures were delivered not only to city voters, but also to shire non-voters.   Perhaps this was the first sign of many mistakes and gaffes to come?
I arrived late; it was 5:50pm.  Had I missed the free pizza? 
Would I get through the crowds?  Would I be admitted?  I went to the RGU Union reception desk, and was told the event was really only for RGU students.
"How many are already signed in?"  I asked.
"You're the first one."  came the reply.
It was explained that I needed to be signed in by a RGU Union member.  A tumbleweed rolled by.
Eventually a man arrived who explained he'd received the invitation which said nothing about it being only for students.  Is it possible that BIG didn't get all the little details right – like who should be allowed in?  It seemed so.  The reception desk got in touch with someone – presumably the organisers and we were allowed to attend the event.  It was almost 6pm.
  A sea of empty chairs and a few sofas greeted our eyes.  We were the first two arrivals.
My friend and I went to the designated area.  The song by The Specials, 'Ghost Town' went through my mind.  Two students played pool further off.  A man tended the food/drink area. Three BIG PR  professionals (who looked like students to me) were fumbling with a screen, a laptop and a projector.
There was me and my new friend, who if possible was even more against the concept of building ramps over UTG than I was.
A sea of empty chairs and a few sofas greeted our eyes.  We were the first two arrivals. We sat in the back of 8 or 9 rows; the chairs of which had all been covered with a copy of The Granite Web newspaper, and a fetching postcard of the concept drawing captioned "Wish You Were Here?".  It crossed my mind the organisers must have wished people were here, too.   But no one was.
My new friend explained to me his position against the CGP.  He had attended a meeting in the days of the consultation; Sir Ian Wood had addressed a group of Health & Social Sciences faculty and staff at the Garthdee campus.  My friend said:-
"I was there all that time ago, and Sir Ian Wood told a group of about 24 of us that if the consultation showed that people didn't want the gardens developed, then he would walk away.  He walked away all right – and came back." 
My new friend was not happy.
"I know people have their own opinions about what should happen to Union Terrace Gardens," he said; "but I object to PR people muddying the waters.  Instead of corporate BS we need facts and honest debate."
It was approximately 10 minutes after 6.  It was three people fumbling with technology, and my friend and I at the back.  Had any PR professionals come over to introduce themselves?  Welcome us?  Offer out any pizza?  No.
But what was this?  Two male students showed up.  They looked at eachother, then at the empty seats.  They sat in the front row.  As they didn't seem to have been made welcome by the professional BIG team, I wandered over.
"I can't buy you any pizza," I explained; "and I can't afford any print or radio commercials.  However, I'd like to offer you some literature just so you can see the other side to the coin."
"I'm a social work student, and I'm not in favour of this plan." one of them said.  He spoke about money, and seemed to know quite a bit about this nebulous scheme.
They took my literature.  One of the PR bods – a woman with dark hair, watched this little exchange between the student and I, and looked for all the world as if cold water had been poured on her.  It  kind of had.
It was 6.15 now.  There had been no welcome to the visitors.  There was no presentation ready to roll. 
There was a Lady Gaga video playing over the pool table which made as much architectural sense as the Granite Web newspapers thay lay unread and unwanted on the empty chairs.  And – there was no pizza.
What was that?  Three more people had arrived.  I repeated the procedure and gave them flyers too.  It seemed that was all they were going to get.
"Does anyone know how to work presentations?" one of the BIG  crew asked.  Answer came there none.
My friend admitted to me he knew all the ins and outs, as did I.  But by now things were getting poignant, and moved by pity for the fumbling threesome, I simply had to leave.
I made my farewells to my new friend, who promised to call me if anything exciting happened, if the numbers swelled, or if the pizza showed up.  I do not expect to hear from him.
"I went to that fly-through thing at the art gallery.  I really don't know what decade they were trying to capture."
I thanked him and headed off.  Just as I turned to leave, it seemed the three-man crew managed to power up the projector.  A yawn of excitement emanated from the four or five remaining hungry students.  Perhaps I've missed the public relations event of the year.  Well, there is always tomorrow at Aberdeen University at 6.30 pm.  Then again, I think I'l lbe washing my hair.
As I turned to leave, more than 15 minutes after the advertised start time, I think one of the three began to speak.  The film 'Withnail and I' came to mind.  At  the end of this film the unequalled Richard E Grant gives a rendition of Hamlet's famed soliliquoy to a collection of animals at the Regents' Park zoo.  He is brilliant, but there was no one there to appreciate his message.
Poor BIG.  Poor paying clients of BIG.  Richard E might have had no audience, but at least he had something important, heartfelt and honest to say.
Picture Credit: Renee Slater