Aberdeen is a city on a downward slide. That makes for uncomfortable reading, doesn't it? Our gut instinct, being the proud city we are, is to reject this notion out of hand, though deep down we all know it is true, says Graeme Campbell.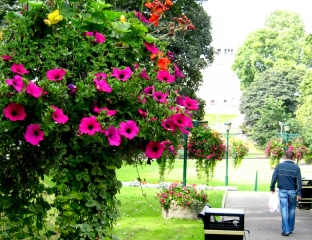 The cause of the rot is not easy to identify. Opinions will differ and any debate would most likely be fierce. It is perhaps best to say the gradual slip in the condition of our once grand and glorious city can be pigeon-holed to two vague categories – poor planning and the slow decline of the energy sector.
Or perhaps over-dependence on it? Two and a half pigeon holes then.
So, avoiding any unhelpful debate surrounding the way we arrived at this point, we must as a city look forward to the best possible route to a future of prosperity. We must look for a plan to return grandeur and pride to the Granite City. 
Our carefully-selected councillors, together with possibly our most successful loon, Sir Ian Wood and the private partnership Aberdeen City and Shire Economic Futures (ACSEF) think the solution to the gradual slip is a new garden. Not exclusively a garden you understand, but a garden with conferencing facilities and a café. To give all credit due, the plans certainly are impressive and whilst perhaps not so impressive in keeping with the architectural fabric of the city, we are, of course, a city not afraid of change.
In the most recent release posted through all city letterboxes, Aberdonians are directed by a host of interested parties to the key point, "You deserve it!" Well yes, most likely. But oddly, relegated to fifth, is what will be the key point for most Aberdonians. Once again we don't want to admit this but we're all thinking it, "We can afford it".
Will Aberdeen City be pushed to the very brink of bankruptcy by this plan, as happened when the city took the bold decision, so long ago, to construct our now famous Union Street granite mile? Probably not. Of course, Sir Ian's mammoth oil wealth will go some way to meeting the cost of development on the site – and only on this site, he has been quite clear on that point – the further estimated £100m will come from business rates, council tax – of course – and the heinously-complex Scottish Governmental TIF funding mechanism.
Now nobody wishes to be bored to tears by the inane workings of a TIF, so let's not worry about that. Instead, let's find out what other places are using TIF to create.
North Lanarkshire plans to spend £73m to transform the former Ravenscraig steel site, an area of quite unrivalled deprivation, to the benefit of the many people who live in the area.
Argyll and Bute is to extend the North Pier at Oban for £20m, further securing the town's position as Gateway to the Islands, a major boon to the tourist industry no doubt.
Falkirk plans to use its TIF in a far less grand manner, by bringing about strategic road developments and improving the flood defences. Clearly a sound decision.
But the plans which should be of most interest to any outward-looking Aberdonian comfortably seated in Europe's oil capital, come from Fife. The council there is to spend its modest £17m TIF improving vehicle and marine access to the already-thriving Energy Park Fife, where renewables are already being constructed. I know, that's not oil, but it is very real, so let's not sneer. Not content with this, Fife has also begun construction of the Levenmouth Low Carbon Investment Park which is set to become 'Scotland's foremost energy park'.
Whilst in Aberdeen we plan to spend £150m on a garden and café.
Is anyone else embarrassed? Our great city, the economic powerhouse of Scotland, is being distracted by plants and trees whilst other towns are going green in a wholly more financially-sound way. This city has the engineering and science skills, brought by the oil industry and our two modern and diverse universities, to become a world leader in the renewables field.
You don't need to do the math to know a research and development centre, alongside a manufacturing park would be of significantly greater financial gain to the city than the redevelopment of a garden.
This brings us to the question – has the Council considered this? Understandably, Sir Ian may not be keen, but this is about so much more than the oil empires held by the few; this is about the continuing prosperity of the many.
So, as the ballot papers find their way to you, look around the city. Look for the signs of the rot brought about by poor management by those who, for too long, have only looked inwards – decision makers enjoying the security of the formerly-booming local oil industry.
Consider what the world, given the current environmental and economic climate, would look to Aberdeen for. Horticultural tips? A show in our new 5000-seat outdoor amphitheatre? Or will they look to Europe's ENERGY Capital to lead the way to a bright new future of renewable energy? And then, as our city leads the world in technological advancement in the renewables field we will look forward to investment, to jobs and to success.
When the ballot paper lands on your doormat, consider what Aberdonians truly deserve and ensure your vote lets our council know just what you want for your future.