The North East countryside is littered with heritage in the form of architecture from the near and distant past. There are Roman marching camps, castles galore and of course a multitude of Pictish circles and standing stones. Duncan Harley writes.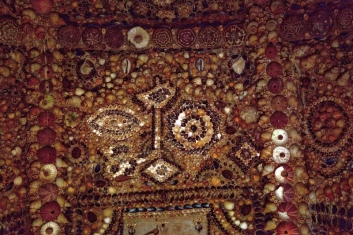 Most of these structures were built for a purpose.  Each night the while on the march the Roman army constructed a temporary camp, complete with rampart and ditch, as a defence against attack while in hostile territory.
Grampian had many of these structures and examples can be still seen at Durno, Kintore and Auchinhove.
The Castles and big houses were in many cases also defensive structures but in more recent history they became potent symbols of the wealth that the area generated through agriculture and trade.  Debate of course continues over the true purpose of the standing stones and stone circles.
Places of worship and mystical ceremony say some.  Others, including myself, wonder if many of the circles were simply settlements.  After all, folk in those distant times needed a place to live.
Then of course there are the follies.
There are various definitions describing follies ranging from, "a building with no practical use whatsoever," to the rather grand sounding description as, "a building constructed primarily for decoration, but either suggesting by its appearance some other purpose, or merely so extravagant that it transcends the normal range of garden ornaments or other class of building to which it belongs."
Personally I like the definition used by RCAMS (The Royal Commission for Ancient Monuments Scotland) which says simply and clearly, "a structure with little or no practical purpose, often found in 18th century landscaped gardens and taking many forms including towers, castles, temples, cairns and hermit's cells".
Towers and temples seem to be the most common types of folly, perhaps due to their visual impact both on the landscape and on the viewer who comes upon them for the first time.
However some follies, such as the Shell Hoosie in Dunnotter Woods near Stonehaven, break this rule completely.
This tiny domed building has its internal walls ( pictured top right ) decorated and completely covered with thousands of sea shells.  Built by Lady Kennedy of Dunnottar House in the early nineteenth century and restored in 1999, it has the appearance of a large beehive when seen from the outside but from inside it feels very much like a hermits cave.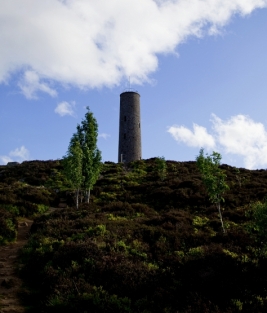 Banchory of course has Scolty Tower, a 20 metre tall granite monument, built in 1842 to the memory of a General William Burnett who fought alongside Wellington in the Napoleonic Wars.
Also known as General Burnett's Monument, there is some debate whether this tower is a true folly due to its commemorative purpose and, somewhat like McCaigs Tower above Oban, local opinion is divided as to the towers status.
Following decades of neglect it was restored in 1992 at a cost of £20k using funds raised by the Rotary Club of Banchory.
Then there is the intriguingly named Temple of Theseus, built around 1835 in the grounds of Pitfour House, Fetterangus near Mintlaw.
A real hidden gem, the building is a scaled down version of the 6th century BC Temple of Hephaestus in Athens and occupies a waterside position on the shores of Pitfour Lake.
Theseus of course was the heroic slayer of the Minotaur, a half-man, half-bull monster which lived in the Labyrinth created by Daedalus on the island of Crete.  Using nothing more than a ball of string to trace his steps and of course a trusty sword, Theseus defeated the Minotaur in an epic battle in the heart of the Labyrinth and thus saved the youth of Athens from being devoured by the evil monster.
The Temple of Theseus in Mintlaw has, as far as I am aware, no claim regarding the housing a Minotaur, however there is a basement area with a bath like structure which it is said once accommodated the late Admiral Ferguson's alligators.  I am happy to report that the lake seems to have a healthy wildlife population and that there was no indication that alligators still lurk in the shallows on the day of my visit.
The building is in a fairly desperate state of repair however and is currently subject of a planning application which would allow the building of nine houses on the Pitfour Estate with a £900k enabling development element for restoration purposes.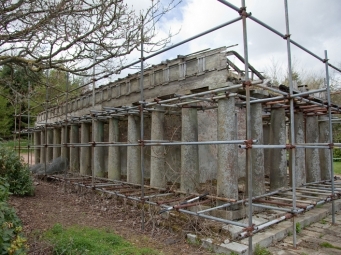 According to a spokesman for Banff and Buchan planning department, the application is likely to be approved within the next few months with funding being made available for not only restoration of the temple and lake area with its associated bridges but also to improve public access.
The Pitfour Estate is well worth a visit if you are in the area although a copy the Ordnance Survey map for Fraserburgh (OS Landranger number 30) will help since the public access routes to parts of the estate are not well marked.
If you are feeling really adventurous and fancy a wee flutter, you might just want to head up to the Forestry car park at Drinnies Wood just north of Fetterangus to visit the site of the Ferguson family private racecourse.
This was complete with an Observatory Tower from which they would take tea while watching the horse racing!  The tower, built in 1845 by Admiral George Ferguson 5th Laird of alligator fame, is still in existence and is open to the public, but the racecourse has largely vanished.
There are, no doubt, many more hidden follies in the Aberdeen area.  If you know of any please get in touch.
Now where did I put my betting slip and binoculars?
Sources
Roman Camps: http://www.roman-britain.org/military/camps_scotland.htm
Pitfour Estate: http://canmore.rcahms.gov.uk/pitfour+house+estate
The Shell Hoosie: http://www.walkhighlands.co.uk/aberdeenshire/dunnottar
Scolty Tower Restoration: http://www.youtube.com/watch?v=O7C2CI5SovE
Comments enabled – see comments box below. Note, all comments will be moderated.