Deliberately resisting the attraction of the undoubtedly arcane and twisted plots of this year's Broons annual, David Innes evaluates Maggie Craig's take on exciting revolutionary times on Clydeside a century ago.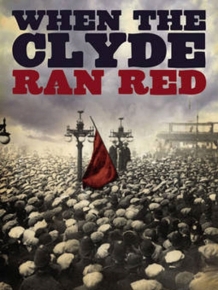 When Lenin appointed John MacLean, perhaps Red Clydeside's most-revered socialist son, Soviet Consul for Scotland in 1918, the reputation of Glasgow and its industrial satellite towns as the most likely crucible of any UK workers' revolution was sealed.
In the aftermath of Bloody Friday in January 1919, the militia, backed up by tanks was in George Square, the Riot Act had been read to an assembly of tens of thousands of working people and Scotland's own socialist revolution seemed inevitable.
When The Clyde Ran Red faithfully documents these tumultuous events which took place in what must have been life-enhancing times, but Maggie Craig achieves much more than re-documenting tales and phenomena well-known to historians and socialists.
In what might be regarded as a primer for the more in-depth and heavy duty histories and biographies listed in her book's bibliography, she chronicles forty years of the people's history through the experiences of those closely involved and those affected by events which showed that change was possible if the determination of the people was present and stout, resolute leadership given.
Not only are the iconic heroes of the struggle – Maxton, Muirhead, Kirkwood, Shinwell, Johnston and others – celebrated for their unstinting efforts as leaders in the battle for liberty, equality and fraternity, the lesser-known local heroes of rent strikes and trade disputes are also lauded. The little victories against oppression and exploitation, the author illustrates, are just as vital in changing lives as headline-grabbing larger scale changes.
There is obvious pride in her own Clydeside roots as Craig relates the day-to-day realities of struggles, defeats and wins for working people, describing the Singer dispute, the building, moth-balling and eventual launch of Cunard's Queen Mary and the Nazis' terrifying and murderous Clydebank Blitz in 1941.
Whilst these histories are well-known, the author brings new life to their re-telling from the perspective of residents, citizens and workers directly involved and affected.
Craig's previous form as a novelist, with seven previous publications in this genre, is obvious and welcome as When The Clyde Ran Red is an immensely-readable social history of headily-exciting times and fiery, determined human spirit.
When The Clyde Ran Red
Maggie Craig
Mainstream Publishing
http://www.rbooks.co.uk/product.aspx?id=1845967356