By Fred Wilkinson.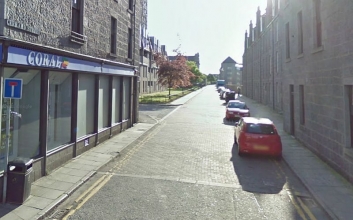 An Aberdeen resident is "bloody furious" on account of a letter she received from Aberdeen City Council Housing and Environment Committee regarding an increase to parking fees. Joan Macpherson of Kingsland Place, Aberdeen was shocked to discover that the weekly charge for her parking space had risen from £3.40 to £35.
Kingsland Place is located directly across George Street from Gerrard Street and has to date been included in the Gerard Street letting area.
Joan told Aberdeen Voice.
"I have lived here for over 20 years and have had a parking space at 68 Gerrard Street for about 15 years. I find this increase unbelievable"
Joan wrote to the council on 3rd of February requesting an explanation for the increased charge to which she received the following reply from Jane Hogg:
"As my letter states, a review of all the parking spaces within the city was carried out and put to the committee and the outcome of this was to increase the weekly charge to £35pw. Unfortunately, I was not present at the committee therefore cannot comment further on this.
"If you do not want to pay this charge, I would ask that you submit your intention to terminate in writing to myself and this should be received by 4 March 2012. Once the letter is received, an acknowledgement letter will then be sent to you advising the termination date. You can use your parking space up until the termination date."
Joan added:
"My car park space is paid till the end of March and I for one will not be renewing it. I wonder if this is the only change they have made to their parking charges policy or will increases be applied to all homeowners in the letting area?"
In response to a telephone query from Aberdeen Voice, Jane Hogg was unable to shed more light on the issue other than to suggest the possibilty of a 'fault in the system', but has invited Joan to contact her in person by telephone.